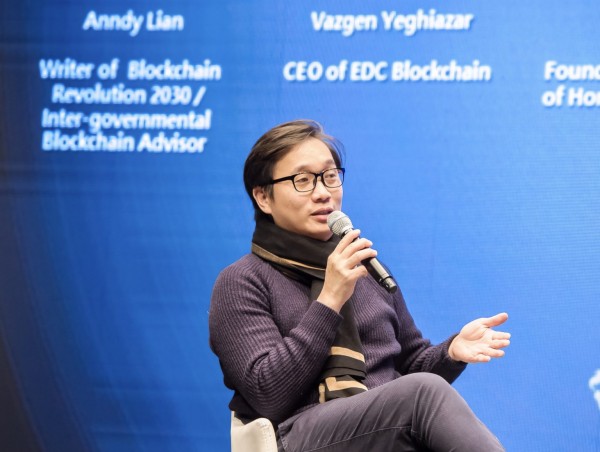 Anndy Lian believes that the future of blockchain is in our hands and reminded all to reflect. He chaired the panel titled "Blockchain Revolution 2030" at the World Blockchain Summit MARVELS on 20 November 2019 at Shilla Hotel, Seoul. Together with the panel of experts, they discussed the future of blockchain and the trends ahead.
The panel consists of Jonathan Kochmer (Former Amazon and Cofounder of RChain Asia), Jay Liang (Chairman of Hong Kong Blockchain Association), Nicola Nicolas Jacquet (Director of Marketing of HDAC), Anndy Lian (Inter-governmental Blockchain Advisor of APO), Vazgen Yeghiazar (CEO of EDC Blockchain) and Saul Tarazona (Chairman of Fight to Fame).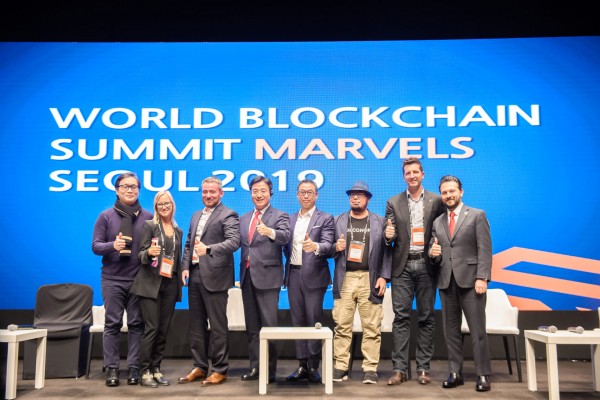 Anndy started the panel by asking about how they think blockchain will evolve in the next 3-5 years.
"Blockchain will be in our lives without us knowing. The apps and dapps will adopt blockchain in some way or another without consumers knowing much." Saul commented. Nicholas agreed on the viewpoint and added that blockchain would become a standard protocol, and it will be used very widely as part of the big system: "It will change our lives without us knowing."
Vazgen suggested that In the near future, we can even tokenize ourselves. We will tokenize the value of an individual and receive direct investment using tokens. "The future of blockchain is unpredictable and I look forward to the limitless possibilities ahead!"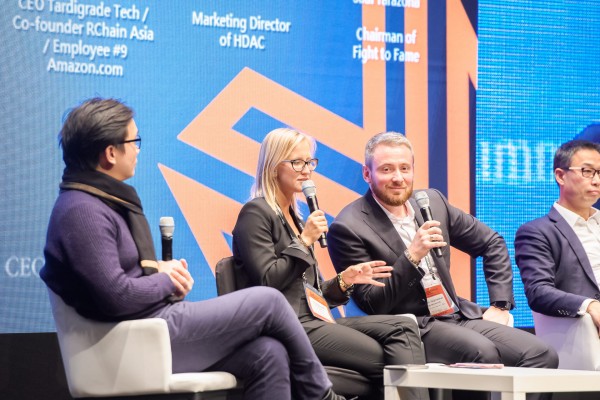 "In the last 150 years, most of the capital has been concentrated on the rich, but in the coming future, blockchain technology will share capital and expand the opportunity for anyone to join the market." Jay shared his views.
"For the sake of discussion, I don't think blockchain can do so much, it will change part of what we are doing right now, but it surely cannot change the world. Bridging the gap between rich and poor is not a job for blockchain. Stopping corruption, fraud, money laundering are also not tasks for this technology. Blockchain can only help to reduce and assist." Anndy Lian gave a different opinion. "I also see that in the near future, 3-5 years, we will see security tokens go mainstream, and hopefully, the regulations can help to speed up the process for everything else."
Anndy also gave his comments to the reporter off the stage saying that the future of blockchain is in our hands: "Blockchain is seen like a speculation tool and a big hype to many people and businesses like I have mentioned on the stage. If we want to see a better future for blockchain, we need to do a reality check by not adding on more fluff to the existing hype. We all have our own personal agenda. I can always sing the same song and say things that the general public likes to listen to and make blockchain a savior for humanity, but this is not right. At the right time, we need to properly educate the market and set a good example for our future."
The panel agreed that blockchain has a very bright future ahead for everyone. Industries like finance, gaming, supply chain, medical and more will benefit from this technology. Industry 4.0, automation, artificial intelligence, deep learning, internet of things will work more harmoniously together with blockchain. Blockchain will aid in closing up existing gaps such as security and introducing a new trust value.
This is the 7th World Blockchain Summit. The event is supported by Ministry of Science and ICT, Seoul, Busan, Korea Blockchain Industry Promotion Association, Busan Economic Promotion Institute, Chungcheongbuk-do Knowledge Industry Promotion Agency, Korea Blockchain Startup Association, Korea Blockchain Industry Promotion Association, Korea Blockchain Society and Korea e-Sports Industry.
Park Bong-kyu, who is the Founder and CEO of World Blockchain Summit is very thankful for the support from the Korean community and also his friends from all over the world who came. At the summit, he also had good discussions on future policies with the Politicians. He had also lined up a group of exhibitors to showcase their blockchain work. Lastly, he made an alliance with Gaimin.io, who is based in Europe to develop on the eSports gaming market.
Korea continues to be one of the key countries for blockchain innovation. There will be more events and announcements ahead for the industry in months to come.
Media Contact
Company Name: Blockcast.cc
Contact Person: Jenny Zheng
Email: Send Email
Phone: +65 98832707
Country: Singapore
Website: https://www.blockcast.cc
Source: StarTribune