Thanks, Albert Arroyo at CapitalBay.News for quoting me in his report.
I have also added another comment on Twitter on the same topic:
We said the same thing when I was the CEO of a supply chain blockchain company we started in 2017/2018.

Traditional tech gives us a base. Maybe 30% secure.
IoT, big data, AI, maybe another 20%.
If blockchain can add another 15%, we are more than half way there. @cz_binance

— Anndy Lian #Blockchain #Crypto #ABC 💛💛💛 (@anndylian) August 6, 2020
Enjoy your read and read more updates at www.anndy.com.
______
Binance CEO and co-founder, Changpeng Zhao has said something that could be utterly shocking for a large number of supporters of blockchain technology. In a tweet, on Thursday, CZ said that blockchains are not immutable, and nothing is 100% secure. He added that it was better to be transparent about the risks rather than hiding them.

For the most part of the last decade, blockchain and crypto companies boasted of being part of the immutable technology, and Binance is no exception. In fact, a great number of users entered the crypto-blockchain industry allured by the immutability and security that it promised. CZ defended his statement saying that he loves blockchain technology, to a point that he could dedicate all of his time and energy to it.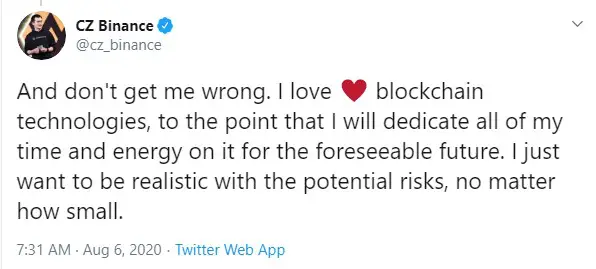 CZ's remarks came in reaction to a report which stated that a hacker netted more than $5 million in the Ethereum Classic 51% attack. He further said,

CZ's comments might not only affect the popularity of blockchain technology but also raise questions on the legitimacy of cryptocurrencies. Crypto proponents have kept raving about the fact that digital currencies are immutable, despite the numerous attacks on crypto exchanges and networks. Though the Binance chief's remarks may ruffle a few feathers, the positive is that this could open a door to questioning and discussions, which could only benefit the users.
Anndy Lian, an inter-governmental blockchain advisor, also agreed with CZ and added that nothing is 100% secure when there's human involvement. However, he added that blockchain increases the degree of immutability.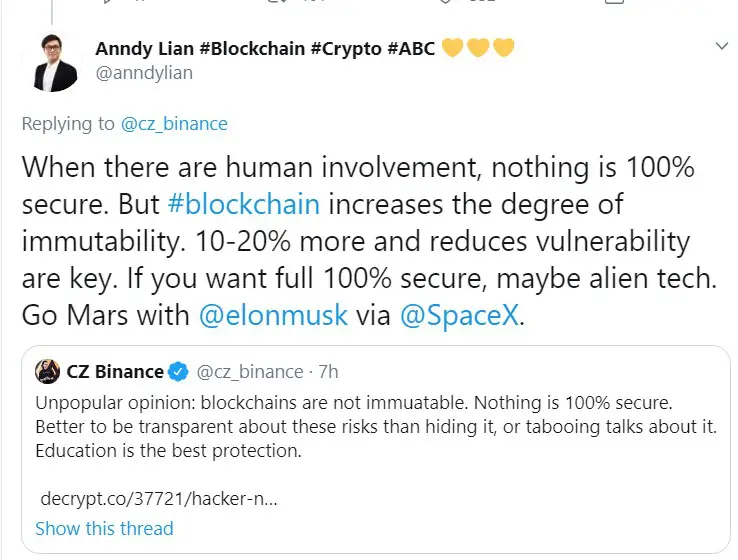 Source: https://www.capitalbay.news/blockchains-are-not-immutable-nothing-is-100-secure-cz/
Anndy Lian is an early blockchain adopter and experienced serial entrepreneur who is known for his work in the government sector. He is a best selling book author- "NFT: From Zero to Hero" and "Blockchain Revolution 2030".
Currently, he is appointed as the Chief Digital Advisor at Mongolia Productivity Organization, championing national digitization. Prior to his current appointments, he was the Chairman of BigONE Exchange, a global top 30 ranked crypto spot exchange and was also the Advisory Board Member for Hyundai DAC, the blockchain arm of South Korea's largest car manufacturer Hyundai Motor Group. Lian played a pivotal role as the Blockchain Advisor for Asian Productivity Organisation (APO), an intergovernmental organization committed to improving productivity in the Asia-Pacific region.
An avid supporter of incubating start-ups, Anndy has also been a private investor for the past eight years. With a growth investment mindset, Anndy strategically demonstrates this in the companies he chooses to be involved with. He believes that what he is doing through blockchain technology currently will revolutionise and redefine traditional businesses. He also believes that the blockchain industry has to be "redecentralised".