StrongBlock is the first of its kind decentralised platform attempting to make launching nodes, necessary for the smooth running of blockchains, cheaper and easier.
Its native cryptocurrency, STRONG token, has had quite the journey since launching in 2020, enjoying a rather fruitful 2021. Yet since then, the coin started to dramatically fall in the second half of January 2021, unable to reach past heights.
Can STRONG rise back to its October 2021 value and which factors are driving the STRONG/USD forecast?
What is the STRONG coin?
StrongBlock was founded in 2018 by 'blockchain pioneers' David Moss, Brian Abramson and Corey Lederer with the goal  to easily add secure, decentralised blockchains to any application.
It had taken the company, however, two years to launch its Blockchain-as-a-Service (BaaS) platform.
By tackling one of the biggest problems new blockchains face, StrongBlock managed to become the first and only blockchain-agnostic protocol that rewards its users for running nodes.
Nodes, which are vital for the existence of any blockchain, keep full copies of blockchain transactions but are hard to create and pricey to operate. This leads many nodes to run outdated software, store incomplete blockchain histories and be intermittently offline.
StrongBlock's Nodes-as-a-Service (NaaS) function lets cryptocurrency miners create nodes in seconds. In turn, miners are rewarded in the form of the blockchain's native cryptocurrency, STRONG, for maintaining the node without having to run their device 24/7.
Rewards can be boosted with StrongBlock non-fungible tokens (NFTs) that are available in four categories: bronze, silver, gold and platinum.
Once a node is launched, it can be used by anyone to access the blockchain the node was built for. So far, StrongBlock supports hundreds of nodes built for Polygon, Ethereum and Sentinel. The approximate amount to set up and run a full Ethereum node is $113.11 per month.
Being listed as an eligible node on StrongBlock is free, however, users should expect a mining deposit to amount to 10 STRONG tokens.
STRONG is an ERC-20 cryptocurrency built on the Ethereum network. Its original supply amounted to 10 million, however, after launching the second version of its Decentralised Finance (DeFi) protocol, StrongBlock ended up burning 94% of the original tokens limiting the supply to around 535,000 STRONG coins.
In the second version of its tokenomics paper, StrongBlock noted that the token:
Is primarily used for rewards.
Supports a low-inflation model with rewards mostly generated through node participation that may adjust in accordance to token valuation over time. In addition, deflationary measures will also be used including the burning of STRONG tokens in some transactions.
Establishes governance, which will eventually determine how StrongBlock works as a decentralised network.
Is helping the project reach a model of long-term, self-sustaining growth.
As of the time of writing (1 April), StrongBlock is rewarding 444,676 nodes.
Over 138,000 coins are currently in circulation, according to data provided by CoinMarketCap at the time of writing. STRONG currently has a market capitalisation surpassing $16m (£12.2m) and is ranked as the 828th largest cryptocurrency.
STRONG price analysis: Bear trend
The STRONG cryptocurrency embarked on quite the journey during its two years in circulation. After reaching a record high of $1,193.31 on 28 October 2021, the StrongBlock coin failed to regain those levels, slumping to the $116 mark, as of 1 April 2022.
After a mini peak of $708.97 on 14 January 2022 the STRONG token started to drastically drop, losing 35.48% of its value in 10 days. Throughout February 2022, the STRONG coin value lost 47% amid broad negative market sentiment as tensions rose on the Russia-Ukraine border.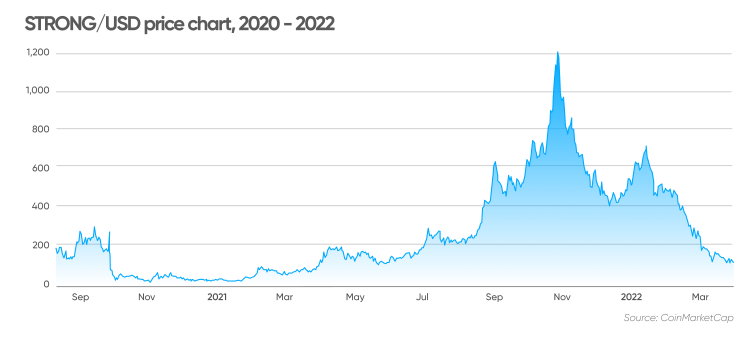 In the most recent STRONG coin news, the project announced that the StrongBlock had reached 270,000 nodes on 27 January 2022.
The number of nodes being activated on StrongBlock drastically increased in February 2022 from 285,000 on 3 February to 350,000 on 27 February. In addition, the token celebrated great success as it debuted third on the top 10 US trending coins for the week chart on CoinGecko on 18 February. This gave investors hope that the token's price could still resurface.
STRONG's price continued to decrease in the next couple of weeks, falling to $113.62 on 26 March 2022, its lowest value that month.
Last year STRONG's price action seemed hopeful as it surged to a record high of $1,193.31 on 28 October 2021 as the blockchain announced the start of its metal NFT lottery where miners would be eligible to qualify to purchase one StrongBlock metal NFT for its original price in STRONG.
In terms of STRONG technical analysis, the short-term sentiment for the token was largely bearish as at the time of writing (1 April).
A Relative Strength Index (RSI) reading of 31 was extremely close to the oversold territory. A reading of 30 or below would indicate that the asset has become undervalued and a trend reversal is likely. Meanwhile, the token was trading below its three, five and 10-day moving averages, indicating a bearish trend.
STRONG token price prediction: Key drivers
On 28 February 2022, StrongBlock published its roadmap for 2022 underlining some key goals including:
The launch of its new token, STRONGER, which plans to solve a number of problems that followed the success of the NaaS DApp.
The release of several new features including two new, different types of nodes, a node marketplace and node transfer.
The platform's intention to build a Layer 1, EVM-compatible blockchain protocol that will be known as StrongChain with the bigger goal in mind of moving its NaaS platform to StrongChain and creating a community-oriented model that will unlock new economic layers, increase sustainability, make STRONG more resilient, and lay a new foundation for growth.
BigONE Exchange chair in Asia, Anndy Lian, told Capital.com that the token's price could be struggling due to the platform being unable to gain retail investor understanding.
"STRONG brings more decentralisation to the current decentralised space by offering multi chain third party external nodes and other data oracles to build robustness and efficiency," Lian exclusively told Capital.com.
"They believe the best way to adopt blockchain is through DAO governance and reward the community sufficiently. This idea works well on the paper but may not be well understood by the retail investors as a whole. Things might change when they list in the more major exchanges," he added.
Thus far, the STRONG token has been listed on ChainSwap and Poloniex Exchange.
In the recent announcement by the project, StrongBlock warned investors to beware of scams, suggesting it has been prone to attacks in the past.
StrongBlock (STRONG) price prediction 2022 – 2025
Despite the latest downward price action, algorithm-based forecasting service WalletInvestor gave a bullish STRONG crypto price prediction at the time of writing (1 April). The site noted that STRONG is "an awesome long-term investment", adding that it has a long-term earning potential amounting to 1,343.3%.
Based on its analysis of past price performance, Wallet Investor predicted that STRONG could cost $460.507 in 2023 and reach $1,751.200 by 2027.
DigitalCoinPrice supported the positive STRONG/USD forecast but saw a much slower pace of growth in the following years, expecting the token to grow to $167.83 by the end of 2022 and reach $248.68 by the end of 2025.
By the end of 2027, the site predicted that the price of STRONG coin could reach $376.08. Its long-term STRONG token forecast showed the cryptocurrency reaching $553.34 by 2030.
Note that predictions about the future of STRONG can be wrong. Forecasts and analyst expectations shouldn't be used as a substitute for your own research. Always conduct your own due diligence and rely on your own projections, and never invest or trade money you cannot afford to lose.
Original Source: https://capital.com/strongblock-strong-coin-price-prediction
Anndy Lian is an early blockchain adopter and experienced serial entrepreneur who is known for his work in the government sector. He is a best selling book author- "NFT: From Zero to Hero" and "Blockchain Revolution 2030".
Currently, he is appointed as the Chief Digital Advisor at Mongolia Productivity Organization, championing national digitization. Prior to his current appointments, he was the Chairman of BigONE Exchange, a global top 30 ranked crypto spot exchange and was also the Advisory Board Member for Hyundai DAC, the blockchain arm of South Korea's largest car manufacturer Hyundai Motor Group. Lian played a pivotal role as the Blockchain Advisor for Asian Productivity Organisation (APO), an intergovernmental organization committed to improving productivity in the Asia-Pacific region.
An avid supporter of incubating start-ups, Anndy has also been a private investor for the past eight years. With a growth investment mindset, Anndy strategically demonstrates this in the companies he chooses to be involved with. He believes that what he is doing through blockchain technology currently will revolutionise and redefine traditional businesses. He also believes that the blockchain industry has to be "redecentralised".