Crypto.com is one of the biggest crypto exchanges out there, however, recent negative sentiment and the collapse of the FTX crypto exchange have sent its native token, cronos (CRO), into a downwards spiral, forcing it to lose over 90% of its value from $0.8992 in November 2021 to $0.0698 a year later.
What are the latest token analytics suggesting, and how many cronos tokens are there?
What is CRO?
CRO is the native cryptocurrency of the Crypto.com chain and the Cronos EVM Chain. It was formerly known as the Crypto.org Coin before being renamed to CRO.
Crypto.com is a public, open-source and permissionless blockchain that aims to help drive the mass adoption of blockchain technology through decentralised finance (DeFi), payments and non-fungible tokens (NFTs). The platform has named itself as the "next generation public blockchain".
The platform was co-founded in 2016 by Kris Marszalek, Rafael Melo, Bobby Bao and Gary Or and is now operated as a desktop and mobile application.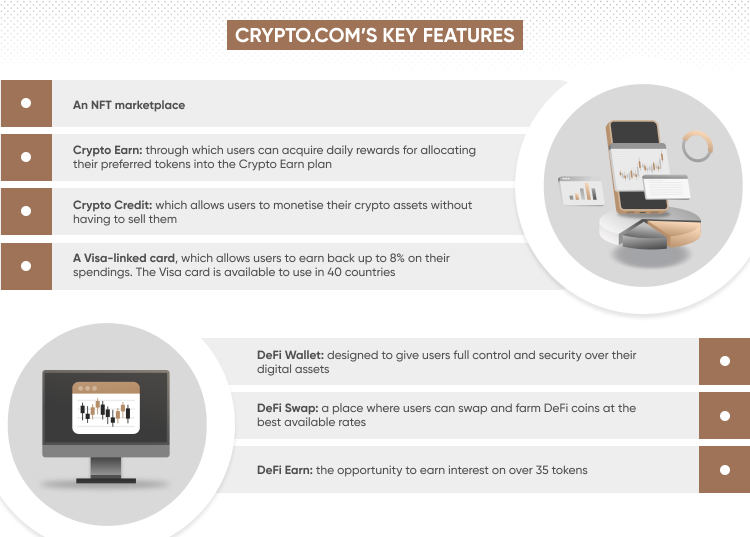 The Cronos EVM Chain is the first ever Ethereum-compatible blockchain that was built on Cosmos SDK technology. It is an open source, permissionless Layer 1 chain that aims to scale the DeFi, GameFi and overall Web3 communities by letting builders instantly port apps and crypto assets from other chains while benefiting from low transaction fees, high throughput and fast finality.
The CRO token powers the ecosystem and is used for staking, which grants users a number of rewards and helps maintain the platform's security and decentralisation. The cronos cryptocurrency is also used to settle transaction fees on the Crypto.org Chain.
Latest CRO market news
2022 has not been the best year for CRO. The token has fallen by more than 87% from its all-time high of $0.8992 on 24 November 2021 to $0.1093 on 17 June 2022. The dip in the CRO price was heightened as Crypto.com announced on 1 May 2022 that it would be slashing staking rewards for all tiers of its VISA cards "to ensure long-term sustainability", effective as of 1 June 2022.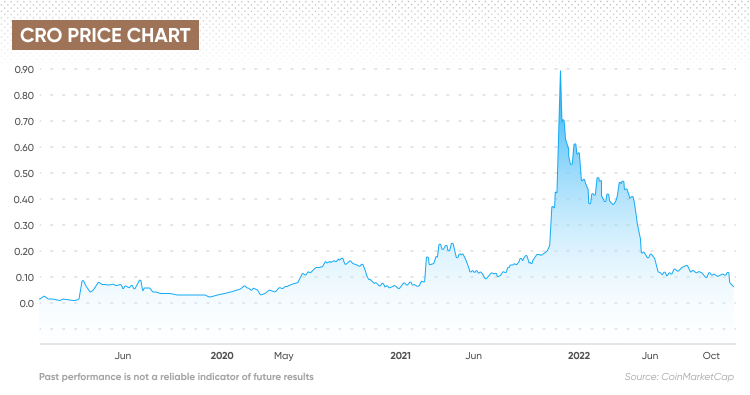 Between mid-July 2022 and end of September 2022, Crypto.com has received a number of licence updates worldwide, including Italy, Cyprus, South Korea, Australia, Canada, the UK and France. In addition, on 12 October 2022 the firm said that Paris was established as its European Regional Headquarters and invested €150m (around $155m, as of 18 November) in France to support market operations.
Between 25 October 2022 and 28 October 2022, Crypto.com had signed three MOUs: one with the game software developing studio ACT Games; one with the city of Busan in South Korea to advance the blockchain industry; and one more with global content studio A Story to develop NFT collaborations.
However, amid all the positive news, Crypto.com has also been caught in an array of negative news. An article published on 6 October 2022 by Ad Age tech claimed that the platform had cut off deals with a number of big sports organisations, including the Los Angeles' Angels City Football Club, the 2022 FIFA World Cup in Qatar and the online sports tournament host Twitch Rivals. The article cited unanimous former and current Crypto.com employees.
In addition, according to a series of Tweets by the article's journalist Asa Hiken, between "June and August, 30-40% of Crypto[dot]com's entire workforce left the company, per former and current employees. That's 2,000+ departures — the vast majority of which were layoffs."
The company did not address the reports.
Now, let's take a closer look at how many cronos tokens there are now.
How many cronos tokens are there?
So, let's have a look at how many cronos tokens are available in circulation as of 18 November 2022.
According to data provided by CoinMarketCap, the maximum supply of the cronos tokens is 30.2 billion, meaning that once the total number of cronos tokens in circulation reaches that value, new tokens can no longer be mined. The current circulating supply of the CRO coin surpassed 25 billion.
However, this was not always the case for the cryptocurrency.
When the cryptocurrency was launched in 2018, its maximum supply was fixed at 100 billion coins. But, in order for the Crypto.com network to become fully decentralised at Mainnet Launch, Crypto.com decided to burn 70 billion CRO tokens in what it called "the largest token burn in history". This was announced by the platform on 22 February 2021.
The platform released a schedule which shows that an initial batch of 59.6 billion CRO tokens was burned on 22 February 2021. Meanwhile, 10.4 billion coins were locked in a smart contract and would be burned every month as they get unlocked. This was aiming to increase the cryptocurrency circulating supply from 24% at the time to over 80%.
The remaining 5.9 billion CRO tokens were distributed in the following way:
5 billion CRO were allocated to mainnet block rewards for Chain validators and delegators
0.9 billion CRO were allocated to the development of the Chain ecosystem
Of that 70 billion burned:
20 billion tokens came from the platform's capital reserve
5.5 billion coins came from the platform's community development
10.4 billion tokens came from secondary distribution and launch incentives
20 billion tokens came from ecosystem grants
20 billion tokens came from network long-term incentives
Who are the biggest CRO token holders?
Now that we have established how many cronos tokens are in circulation, let's take a look at the biggest CRO token holders.
Data provided by etherscan.io showed that, as of 18 November, there were 281,902 CRO holders in total. The 10 biggest CRO holders collectively owned 92.54% of the total token supply in circulation, meanwhile the top 100 owned 95.93%.
The website noted that the top account holding the most CRO tokens in total was a Null Address owning over 77 billion coins, amounting to 77.89% of the total circulating supply. Crypto.com was also among the top CRO holders in the world, owning around 7 billion tokens or approximately 6.9% of the total supply.
Analyst thoughts
Anndy Lian, chief digital advisor at the Mongolian Productivity Organisation and author of 'NFT: From Zero to Hero' told Capital.com that while burning 70% of the then maximum CRO token supply was a good decision, doing so in 2021 was a "downside".
"Personally, I would prefer them to burn and then buyback in stages of burning such a huge amount. The burn back then did make the market perceive that the remaining tokens have more value but that was short lived."
Lian added that taking into consideration everything that has happened with the FTX crypto exchange in recent weeks, CRO holders are also getting anxious about the wellbeing of the Crypto.com platform, however, Crypto.com CEO Kris Marszalek's live AMA session on YouTube on 14 November 2022 helped calm those worries down.
"Crypto.com is still facing potential bank run in my humble opinion. This to me is one of the biggest risks that CRO has a direct impact on."
The bottom line
While knowing key info about the cronos tokenomics and circulating supply is important for accessing the project's health, it shouldn't substitute your own research. You should always conduct your own due diligence before trading, looking at the latest news, technical and fundamental analysis, and a wide range of analysts' opinions before making any trading decision.
Keep in mind that past performance is no guarantee of future returns. And never trade or invest money that you cannot afford to lose.
Source: https://capital.com/how-many-cro-tokens-are-there-crypto-com-circulation-analysis
Anndy Lian is an early blockchain adopter and experienced serial entrepreneur who is known for his work in the government sector. He is a best selling book author- "NFT: From Zero to Hero" and "Blockchain Revolution 2030".
Currently, he is appointed as the Chief Digital Advisor at Mongolia Productivity Organization, championing national digitization. Prior to his current appointments, he was the Chairman of BigONE Exchange, a global top 30 ranked crypto spot exchange and was also the Advisory Board Member for Hyundai DAC, the blockchain arm of South Korea's largest car manufacturer Hyundai Motor Group. Lian played a pivotal role as the Blockchain Advisor for Asian Productivity Organisation (APO), an intergovernmental organization committed to improving productivity in the Asia-Pacific region.
An avid supporter of incubating start-ups, Anndy has also been a private investor for the past eight years. With a growth investment mindset, Anndy strategically demonstrates this in the companies he chooses to be involved with. He believes that what he is doing through blockchain technology currently will revolutionise and redefine traditional businesses. He also believes that the blockchain industry has to be "redecentralised".