ATOM, the native token of the Cosmos network, saw a bullish run in 2021, surging 453.3%.  In the beginning of 2022 the token continued the momentum, rising above $40. But, the surge was short-lived amid negative sentiment in the cryptocurrency markets fuelled by Russia's invasion of Ukraine.
The crash of the LUNA token and the TerraUSD (UST) stablecoin at the start of May 2022, both based on the Cosmos network, were also key driving points in the cosmos cryptocurrency's decline.
Where is the token headed now? Here we take a look at what factors are shaping the cosmos crypto forecast for 2022 and beyond.
Coined as "the Internet of Blockchains" by its founding team, Cosmos aims to build an ecosystem of independent interconnected blockchains, allowing them to "interoperate while retaining their security properties". It was co-founded by Jae Kwon and Ethan Buchman in 2016.
Blockchains can interact through its architecture of zones. Users can build multi-asset public Proof-of-Authority (PoA) and Proof-of-Stake (PoS) blockchains, like the Cosmos Hub.
Through this the network aims to solve a number of limitations of cryptocurrencies, including scalability, usability and sovereignty. The end goal, the platform's website notes, "is to create an Internet of Blockchains, a network of blockchains able to communicate with each other in a decentralised way."
The network's focus on customisability and interoperability sets it apart from other projects.
Cosmos is based on the Tendermint Byzantine Fault Tolerance (BFT) consensus algorithm designed to ensure finality, order consistency and optional availability. The network also consists of the Cosmos SDK, an industry standard for building blockchains.
Cosmos' IBC (inter blockchain communication) allows blockchains within the ecosystem to connect so that they can transfer tokens and other data between one another frictionlessly and seamlessly.
In addition, users can also create marketplaces allowing for permissionless global trade. They can build autonomous application-specific blockchains, rather than smart contracts, to avoid high transaction fees and network congestion.
Moreover, users can also create games with unique collectibles in the form of non-fungible tokens (NFTs) and character upgrades that they can monetise without third-party approval or app store fees.
According to the network's website, there are currently (30 May) 265 apps and services on Cosmos, including the Binance Chain (BNB), Terra (LUNA) and Crypto.org (CRO), with over $66bn of digital assets under management.
While the Cosmos Hub is a multi-asset distributed ledger, it offers ATOM, its native token. ATOM is the only staking token of the Cosmos Hub, and acts as a licence, allowing holders to vote, validate or delegate to other validators.
The token can also be used to pay for fees on the platform to mitigate spam, similar to Ethereum's ETH. The token provides security to the chain, allows holders to earn rewards and vote.
As of 30 May, there are over 289m tokens in circulation, according to CoinMarketCap. The token has a market capitalisation surpassing $2bn and is ranked as the 29th biggest cryptocurrency on the platform.
The bullish run: Technical view
The ATOM cryptocurrency was listed on CoinMarketCap in March 2019. It was trading in bearish territory until the start of 2021. In February 2021, ATOM  surged by 174.2% from the low of $7.3839 to its first peak of $20.25 on 13 February. Between February and May, the token managed to grow an additional 42.1%, reaching above $28 by 9 May 2021.
The ATOM crypto value bottomed out between May and July, dropping by 67% to $9.4857 on 20 July 2021. This bear trend provided an opportunity for a new bull run, which saw the ATOM/USD price surge to the all-time high of $44.54 on 19 September 2021.
The token's record level came ahead of the platform's participation at Mainnet 2021, an immersive, agenda-setting summit held annually for crypto industry leaders.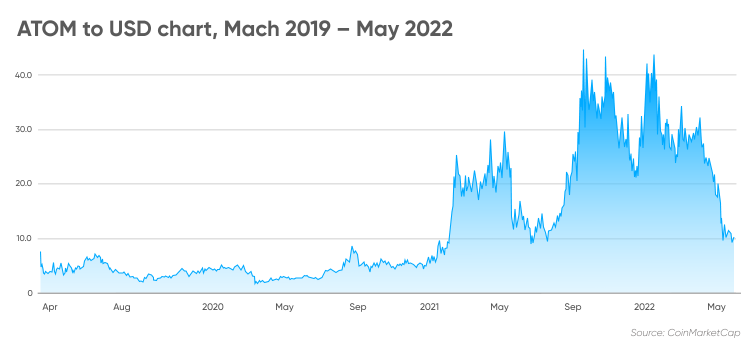 ATOM saw new highs once again in October 2021, surging to $43.22 on 26 October 2021 as Cosmos announced that Terra became the latest chain to enable IBC, bringing its native LUNA cryptocurrency as well as its TerraUSD (UST) stablecoin with it.
The cosmos cryptocurrency entered 2022 on a positive note, surging by 97.9% to $41.99 on 4 January 2022 from its $21.22 17 December 2021 low. A second surge followed on 16 January 2022, which saw ATOM's value rise to $43.61. This was due to several reasons.
Firstly, Cosmos reported to have neared EVM-protocol compatibility, which would allow assets and projects that operate on the Ethereum network to migrate over to Cosmos. Secondly, the project announced that a liquidity staking module was coming to the platform, which would give additional functionality to the stakes chain assets.
That, however, was the last time ATOM was so close to its all-time high as it embarked on a bearish run for the remainder of 2022. Wider negative crypto market sentiment was fuelled by the start of the war between Russia and Ukraine, as well as bitcoin (BTC) falling below $27,000.
What is your sentiment on ATOM/USD?
The token lost around 79% of its value, hitting as low as $9 by mid-May 2022, as seen on the chart above. Today (30 May), the coin is valued at $9.94.
ATOM technical analysis provided by CoinCodex, as of the time of writing (30 May), showed that sentiment on the token was largely bearish.
A Relative Strength Index (RSI) reading of 32.5 was neutral yet extremely close to oversold territory. A reading of 30 or below would indicate that the asset has become undervalued and a trend reversal is likely. Meanwhile, the token was trading above its three-day moving average but below its five and 10-day moving averages.
Can ATOM recover?
In the latest cosmos crypto news, the network's Gravity Bridge announced a number of milestones at the start of March 2022, including the introduction of ATOM with Ethereum DeFi and the Cosmos NFT platform, Stargaze, working with Gravity Bridge to send NFTs from Ethereum to Cosmos.
In April 2022, Cosmos introduced  its Theta upgrade which saw the official launch of Interchain Accounts, a module that has the potential to boost interoperability, traffic and composability.
In May 2022, KYVE, the Web3 data lake solution, joined the Cosmos ecosystem and migrated most of its blockchain protocol from EVM-based chain to the Cosmos SDK-based chain.
At the beginning of May 2022, the prices of the LUNA cryptocurrency and the UST stablecoin crashed, losing over 90% of their values within days. The tokens were based on the Cosmos network.
"As always, the cosmos ecosystem will continue to be a nurturing and safe environment for bold entrepreneurs to bring forth the Internet of Blockchains. Tendermint, IBC and the @cosmos SDK are showing the world how resilient & secure they are under extreme market conditions," Cosmos said on Twitter during the LUNA crash.
In December 2021, Cosmos promised that its hub will continue to grow in the coming year, announced the launch of interchain security and accounts, more decentralised finance (DeFi) projects and the rise of NFTs.
"Cosmos is not a new token. It has been around since 2017 and has survived through all the down periods. Cosmos constantly remained in the top 50,  although many new investors may not have heard of it as it is not marketed that aggressively unlike Polygon or Binance Smart Chain," BigOne Exchange chair in Asia, Anndy Lian told Capital.com.
According to Lian, the ATOM token took off because the Cosmos network offers "a simple experience for blockchain developers" with  "easy-to-understand tutorials, tools, and community assistance for developers."
In 2020, Jae Kwon stepped down from his position as one of the project's co-founders to focus on a different project. This, according to Lian, is one of the biggest uncertainties for the Cosmos prediction.
"He exited back then after several high-ranked employees left the company in protest of his leadership and it was reported that Kwon's return to NewTendermint has continued to feud with his former Tendermint colleagues. I am not sure what is the truth and what are the backstories for this, but I think the lack of unity within their group makes this token vulnerable," he noted.
Lian added that at the moment, ATOM has a strong support around the $9 range.
"Falling below this amount would mean that it may go below its launch price. This could happen too. Apart from the internal risks, I would caution all to look at external risks to manage your portfolio better."
Cosmos (ATOM) price prediction 2022-2030
Despite the latest downward price action, algorithm-based forecasting service Wallet Investor gave a bullish outlook for its ATOM prediction, as of 30 May, suggesting ATOM is "an awesome long-term investment" with long-term earning potential at 752.13%.
Based on its analysis of past price performance, Wallet Investor's cosmos coin price prediction suggested that the token could trade at $26.389 in 2023 and $84.685 by 2027.
DigitalCoinPrice also gave a positive ATOM crypto price prediction but saw a much slower pace of growth in future years. The site projected that ATOM could reach the target price of $13.76 by the end of 2022, $18.73 by the end of 2024 and $24.33 by 2025.
By the end of 2027, the site's cosmos crypto price prediction expected that the coin could reach $34.02. Its long-term ATOM coin price prediction showed the cryptocurrency could trade at $49.10 by 2030.
Note that algorithm-based and analysts' projections can be wrong. Forecasts and analysts' expectations shouldn't be used as substitutes for your own research. Always conduct your own diligence and remember that your decision to trade or invest should depend on your risk tolerance, expertise in the market, portfolio size and goals.
Keep in mind that past performance doesn't guarantee future returns. And never invest or trade money you cannot afford to lose.
Original Source: https://capital.com/cosmos-atom-price-prediction
Anndy Lian is an early blockchain adopter and experienced serial entrepreneur who is known for his work in the government sector. He is a best selling book author "Blockchain Revolution 2030".
Currently, he is appointed as the Chief Digital Advisor at Mongolia Productivity Organization, championing national digitization. Prior to his current appointments, he was the Chairman of BigONE Exchange, a global top 30 ranked crypto spot exchange and was also the Advisory Board Member for Hyundai DAC, the blockchain arm of South Korea's largest car manufacturer Hyundai Motor Group. Lian played a pivotal role as the Blockchain Advisor for Asian Productivity Organisation (APO), an intergovernmental organization committed to improving productivity in the Asia-Pacific region.
An avid supporter of incubating start-ups, Anndy has also been a private investor for the past eight years. With a growth investment mindset, Anndy strategically demonstrates this in the companies he chooses to be involved with. He believes that what he is doing through blockchain technology currently will revolutionise and redefine traditional businesses. He also believes that the blockchain industry has to be "redecentralised".