Voyager Digital has been making headlines ever since the crypto platform filed for Chapter 11 bankruptcy protection in July 2021. The company is engaged in ongoing court proceedings.
Here we take a look at the voyager (VGX) tokens circulating supply and analyse who owns the most VGX.
Voyager Digital: Origins & token history
Voyager Digital is a US-based cryptocurrency platform that was founded in 2017 by a team of finance and technology industry veterans, including the firm's CEO Stephen Ehrlich, chairman Philip Eytan and Gaspard de Dreuzy, a serial entrepreneur.
In addition to being a crypto company, Voyager Digital is a publicly traded company listed on the Toronto Stock Exchange (TSX) since 2021 under the ticker VOYG.
As of September 2022, the company hosts over 100 different digital assets through its mobile application and allows clients to earn rewards of up to 12% annually on more than 40 cryptocurrencies.
The Voyager token (VGX) is the platform's native cryptocurrency. It's designed to reward customers for their loyalty. It was based on the Ethos Token. In 2019, Voyager acquired Ethos.io and incorporated the team, technology and native token into its ecosystem.
Until 2020, Voyager operated with a multi-token functionality. After 2020, the company integrated its native tokens into a new single token model known as VGX 2.0. Today, VGX maintains a presence on the Ethereum blockchain as an ERC20 cryptocurrency.
According to the project's whitepaper, Voyager utilises the VGX 2.0 token to boost the platform's adoption and functionality. Holding VGX allowed users to earn 7% staking rewards and raise their earnings by joining the Voyager Loyalty Program.
The VGX token was met with enthusiasm. The price rose to an all-time high of $11.02 just six months after the token launched in 2017. The bullish run was short-lived, and the price fell by 96.7% to $0.3678 by August 2018.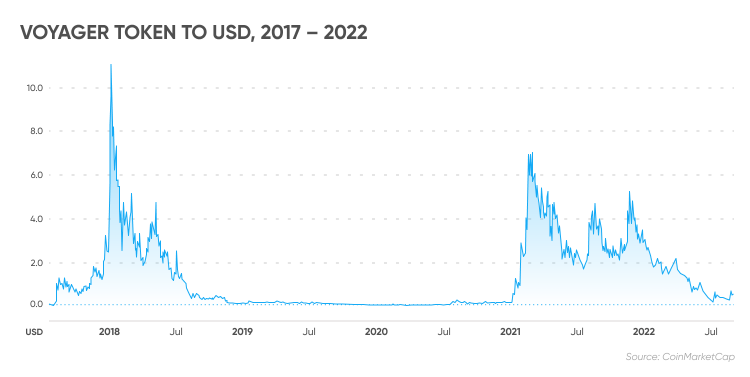 The next big jump took place between January and February 2021, when VGX surged 3,267% to $6.9023, from levels as low as $0.2. Around this time, the Uniswap (UNI) token became available on the Voyager platform.
On 22 November 2021, VGX surged to $5 amid a positive general crypto market sentiment, however, this was the token's last peak as it embarked on a bearish run. But since its November high, the VGX has lost more than 75% of its value, sliding down to $0.9188.
Latest voyager crypto news
In July 2021 Voyager filed for Chapter 11 bankruptcy protection, as it was heavily affected by the global crypto crash. Since then, the company has been in and out of court proceedings.
As Voyager moves through the Chapter 11 bankruptcy process, latest filings revealed on 8 September that the company will auction off the remainder of its assets on 13 September. The results of the auction will become final during a court hearing approving them on 29 September.
In the latest voyager token news, potential buyers remained unnamed. However, bids previously made by the crypto trading platform FTX were made public. FTX said in a press release on 22 July that it would buy Voyager's assets and loans at cash value and open accounts for Voyager customers on FTX. This proposal, however, was branded a "low-ball" bid by Voyager's lawyers.
In a second-day hearing presentation on 4 August, the company stated that it had received "higher and better" buyout offers. As of 12 September, Voyager said that it was contacted by 88 potentially interested buyers and was in "active discussions" with 20.
Who owns the most Voyager crypto?
So, who owns the most Voyager crypto and how is the token distributed?
When Voyager decided to integrate its tokens (VGX and LGO (the native token of a company Voyager acquired) into one, VGX was exchanged for VGX 2.0 (now known as VGX) at a 1:1 rate. LGO's exchange rate to VGX 2.0 was 6.5356340619:1.
The circulating supply of VGX tokens stood at 222 million. The circulating supply of LGO was over 33 million. Following the token swap, Voyager chose to mint a growth pool of tones on an annual basis to power Voyager Loyalty Program rewards, as well as fund promotional campaigns for new and existing customers.
Hence, 40 million new tokens were minted in the first year since the integration, 20 million will be minted in the second year and 10 million between the third and eight years.
According to data provided by CoinMarketCap, the total and circulating supply of VGX, as of 12 September, surpassed 278 million tokens. The maximum supply stood at 297 million.
Voyager also introduced a new initiative called the Voyager Loyalty Program, which Voyager customers can qualify for by maintaining a number of VGX tokens in their accounts. The programme has three tiers:
Adventurer – customers holding over 500 VGX
Explorer – customers holding over 5,000 VGX
Navigator – customers holding over 20,000 VGX
The more VGX customers stake, the higher they move up these tier categories and the more rewards they earn with each tier.
So, who owns the most Voyager crypto?
Over the last few months, VGX whales have gradually reduced their holdings. However, data revealed by etherscan.io showed that the top 100 VGX token holders, as of 12 September, collectively owned 97.62% of the total supply in circulation.
The website noted that the top account holding the most voyager tokens owned 93.9% of the circulating supply, which amounted to 208 million VGX tokens worth $191m, as of 12 September. According to the website, the account's address is 0x933bb73de8fcfb74415fbc99561623c593bf3b61.
The second biggest VGX whale owned 1.9% of the total circulating supply, amounting to four million VGX tokens.
The third biggest VGX holder was an account under the address 'Binance 8' that held around 0.18% of the total circulating supply, amounting to around 395,757 tokens.
The fourth and fifth biggest voyager coin whales owned around 0.14% of the total circulating supply.
Final thoughts
While knowing who owns voyager crypto may be useful for the coin's enthusiasts, it shouldn't be used as a sole reason to trade. Nearly all of the maximum VGX supply is in circulation, as of the time of writing (12 September), which could lead to the possibility of greater volatility. Investors are warned to exercise caution.
According to Invezz's analyst Crisous Nyaga, "uncertainty about the Voyager collapse and low volume trading could lead to market manipulation.
"The coin's future is uncertain and it will depend on the outcome of the bankruptcy proceedings. If the firm moves completely out of business, there is a possibility that the VGX token will not survive. On the other hand, if it is acquired, there is a possibility that the coin will continue doing well."
Anndy Lian, chief digital advisor at the Mongolian Productivity Organisation and the author of NFT: From Zero to Hero, told Capital.com that retail investors are buying VGX based on rumours that the company will be acquired by either Binance or FTX.
"I noted that the current investors are still working very hard promoting in different channels with the hope of making the VGX a more viable choice for new investors and perhaps drawing more attention so that the buyout can complete faster. These are positive signs from the community members who want the token to do well and resume their staking and cashback rewards," he stressed.
Note that analysts' predictions and opinions can be wrong. Always conduct your own due diligence before trading. And never invest or trade money you cannot afford to lose.
Source: https://capital.com/voyager-who-owns-most-vgx-crypto-tokens
Anndy Lian is an early blockchain adopter and experienced serial entrepreneur who is known for his work in the government sector. He is a best selling book author- "NFT: From Zero to Hero" and "Blockchain Revolution 2030".
Currently, he is appointed as the Chief Digital Advisor at Mongolia Productivity Organization, championing national digitization. Prior to his current appointments, he was the Chairman of BigONE Exchange, a global top 30 ranked crypto spot exchange and was also the Advisory Board Member for Hyundai DAC, the blockchain arm of South Korea's largest car manufacturer Hyundai Motor Group. Lian played a pivotal role as the Blockchain Advisor for Asian Productivity Organisation (APO), an intergovernmental organization committed to improving productivity in the Asia-Pacific region.
An avid supporter of incubating start-ups, Anndy has also been a private investor for the past eight years. With a growth investment mindset, Anndy strategically demonstrates this in the companies he chooses to be involved with. He believes that what he is doing through blockchain technology currently will revolutionise and redefine traditional businesses. He also believes that the blockchain industry has to be "redecentralised".