Launched in the midst of a non-fungible token (NFT) and metaverse hype train, the ELV coin, responsible for the smooth operation of the Elvantis ecosystem, has had quite the journey during its first few months in circulation.
The ELV token surged by 101.53% in the first four days following its launch, up from $0.07567 on 10 February 2022 to $0.1525 on the 14th.
The token's success, however, was not long lived; the ELV coin value started to drastically decline after reaching its all time high of $0.1542 on 17 February. The coin is currently trading at $0.06295 (as of 22 March).
Is this the right time to join the digital universe? Let's have a look at the Elvantis crypto price prediction for 2022, 2025 and 2030 to find out more.
What is Elvantis (ELV)?
According to its official website, the Elvantis ecosystem is a "metaverse-inspired online NFT game that combines what you love about gaming with the addictive thrill of collectables".
Set in an immersive space ecosystem, the project juggles with the idea of merging art and NFTs with video games and crypto earnings as it strives to build a community that creates a self-sustaining and profitable "living organism", as stated in its whitepaper.
The game operates as a storyline that guides players through a metaverse as they look for rewards in an open world with the help of a Treasure Map. Rewards come in NFT form as unique, collectable cards that have a number of utilities besides their artistic value.
Players can explore the Elvantis ecosystem as bounty hunters or build a farm and earn items that can be given away or traded on the platform's own marketplace. Aliens fill the role of avatars in this intergalactic universe and each player has the opportunity to expand the skills of their alien making them better and stronger.
The aliens, known as Elvantinians, can travel through the entirety of the Elvantis universe and collect a number of items (NFTs) from chests and adventures that will help them grow stronger and more powerful; get to rule over countless planets; battle each other as well as a number of mythical creatures for rewards and enlarge their empires.
Players keep their collected NFTs in a Relic Album. Players receive extra rewards as the album is being filled up.
The Elvantis ecosystem was built on the Binance Smart Chain (BSC) but has crossed into the Ethereum network as well. Its native coin, ELV, was built on the Ethereum network and operates as an ERC-20 cryptocurrency.
The ELV token can be used for:
NFT staking and farming
Participating in in-game battles
Hunting for treasures with the use of the Treasure Map
Trading and selling items on the marketplace
Completing sections of the Relic Album
The maximum supply of the ELV cryptocurrency amounts to 300m, meanwhile over 44.8m are in circulation as of 22 March 2022. The token reached over $2.8m in market capitalisation and is ranked as the 3461st  largest cryptocurrency by CoinMarketCap as of 22 March 2022.
The project is in the early stages of its production and still has a long way to go until fully launched.
ELV token value: Key drivers
The ELV crypto price took off within a week of the token's launch, surging by 103.77% from $0.07567 on 10 February 2022 to $0.1542 on 17 March, an all-time high value, as seen on the chart below.
A successful launch was triggered by the ELV token being listed on a number of crypto platforms, including CoinMarketCap, Coinstats, DappRadar and CoinAlpha. The coin was also ranked second biggest gainer on CoinMarketCap four days following its launch and releasing its chests function.
The token's advance was not long-lived, however, as the ELV coin value started to rapidly decline, falling by 56.45% to $0.06714 exactly a week after reaching its all-time high.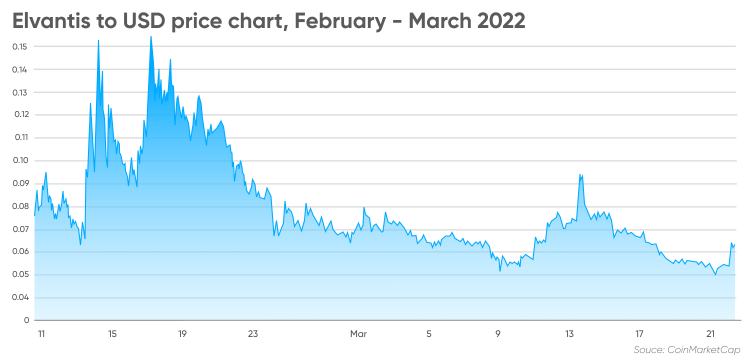 The bearish trend in the Elvantis coin price was likely the aftermath of the Russian invasion of Ukraine, which sent crypto markets tumbling.
An untimely debut did not help the Elvantis crypto value gain momentum despite the platform's constant development and promises of more to come.
In the recent Elvantis coin news, on 24 February 2022 the platform announced that it would be launching a new series of NFT avatars known as "The Crypto Legends". The avatars include virtual NFT figurines of twenty "legendary" names that were immortalised due to the "great realizations and the influence that they had on the course of Universal events".
Some of the "legends" featured include: American rapper Snoop Dogg, who has on several occasions expressed his interest in the metaverse and a number of NFT projects; Tesla CEO Elon Musk; the presumed pseudonym of the team that created Bitcoin, Satoshi Nakamoto; Binance CEO Changpeng Zhao and computer programmer John McAfee.
However, even a star-studded NFT collection did not help boost the ELV coin value, which by 9 March had fallen o $0.05174, its all-time low.
Further negative news followed as US President Joe Biden announced that his administration would be signing an executive order that includes new initiatives on cryptocurrency regulation.
The ELV cryptocurrency continued on a bearish trend until it surged by 81.17% to $0.09374 on 13 March 2022 from its 9 March value after the platform announced the launch of a giveaway that would see players win 50 NFTs and $10,000 in ELV tokens.
Since the token's mini-surge in mid-March, the Elvantis cryptocurrency has not been looking very good as it lost 32.84% of its value and dropped to $0.06295 on 22 March 2021.
Invezz's data analyst Dan Ashmore pointed out that the bearish outlook faced by the ELV cryptocurrency is due to its untimely launch.
"Shedding nearly two thirds of its value in the last month, Elvantis is suffering from a stuttering market as crypto and stocks alike pull back."
by Dan Ashmore, Invezz
"Elvantis is a prime example of how important it is to time your launch well in the world of crypto. Akin to how companies in the stock market often pull initial public offerings (IPO) in response to macro events, the sentiment in the market is vital to nascent cryptocurrencies, especially given the rampant speculation from retail in the alt-coin sector," he told Capital.com.
"Shedding nearly two thirds of its value in the last month, Elvantis is suffering from a stuttering market as crypto and stocks alike pull back. Altcoins, high beta assets as they are, have felt the brunt of this as investors have moved risk-off in response to the precarious geopolitical climate.
"Elvantis presents as an especially high risk investment given it is still in production, and the appetite from investors for such assets is simply not there right now, as they seek to retreat back the risk curve rather than move further out."
Ashmore believes that if the token aspires to reach its February digits it is vital for it to be picked up by the wider market.
BigONE Exchange Chairman in Asia, Anndy Lian agreed with Ashmore, on the token's unlucky launch.
"As of today, I think the price of the coin has reflected the market sentiments. If investors want to see a spike in price the project must launch their play-to-earn gaming according to the market's condition. It would be better if it is accompanied by a good listing too," he added.
Elvantis NFT: A metaverse in development
The Elvantis ecosystem is far from being finalised and currently in "full development". On 10 March 2022, the platform announced that it is carrying out minigame test runs.
On 14 March, the platform launched the NFT Farm, a minigame where players can stake a variety of their NFTs in order to win ELV tokens. This was followed by the launch of "The Crypto Legends" collection on 20 March.
According to the platform's roadmap, players can expect many more updates to come in the following years including the launch of:
Five new NFT collections.
The platform's marketplace.
The alpha version of the play-to-earn metaverse.
The app for ANDROID and IOS.
New partnerships.
Cross-chain development with Ethereum, Matic and Solana.
It is important to note that because Elvantis is a relatively new project in the play-to-earn metaverse and decentralised finance (DeFi) industry, it may not achieve broader adoption.
ELV price prediction: Will the token surpass its bearish trend?
Algorithm-based forecasting site Wallet Investor gave a negative Elvantis token price prediction at the time of writing (22 March), calling it a "bad long-term investment".
Based on its analysis of the cryptocurrency's past performance, the site predicted that the ELV cryptocurrency could trade at $0.00351 by 2023. The platform did not provide an Elvantis (ELV) coin price prediction for 2026.
DigitalCoinPrice, on the other hand, echoed the opposite sentiment in its Elevantis crypto prediction, seeing the coin reach $0.0876 by the end of 2022 and $0.13 by December 2025.
The site predicted that ELV would surpass its all-time high by the end of 2028 reaching $0.25. Its long-term ELV coin forecast showed the cryptocurrency reaching $0.31 by 2030.
Note that algorithm-based Elevantis price predictions can be wrong. Forecasts shouldn't be used as a substitute for your own research. Always conduct your own due diligence before investing. And never invest or trade money you cannot afford to lose.
Original Source: https://capital.com/elevantis-elv-price-prediction
Anndy Lian is an early blockchain adopter and experienced serial entrepreneur who is known for his work in the government sector. He is a best selling book author- "NFT: From Zero to Hero" and "Blockchain Revolution 2030".
Currently, he is appointed as the Chief Digital Advisor at Mongolia Productivity Organization, championing national digitization. Prior to his current appointments, he was the Chairman of BigONE Exchange, a global top 30 ranked crypto spot exchange and was also the Advisory Board Member for Hyundai DAC, the blockchain arm of South Korea's largest car manufacturer Hyundai Motor Group. Lian played a pivotal role as the Blockchain Advisor for Asian Productivity Organisation (APO), an intergovernmental organization committed to improving productivity in the Asia-Pacific region.
An avid supporter of incubating start-ups, Anndy has also been a private investor for the past eight years. With a growth investment mindset, Anndy strategically demonstrates this in the companies he chooses to be involved with. He believes that what he is doing through blockchain technology currently will revolutionise and redefine traditional businesses. He also believes that the blockchain industry has to be "redecentralised".