In 2021, Enjin became synonymous with non-fungible tokens (NFTs). However, the project started off as a blockchain ecosystem in 2017.
Its native cryptocurrency, Enjin coin (ENJ), started to gain momentum in 2021, when NFTs became hot news in the cryptocurrency world.
Since reaching its all-time high of $4.6858 on 25 November 2021, the token has struggled to climb back to the top, falling by 66.2% to $1.58, as of the time of writing (14 April).
Can ENJ rise back to its November 2021 value, and what's in store for the Enjin token price prediction?
Enjin, founded in 2009 by Maxim Blagov and Witek Radomski, was highly involved with the gaming industry.
Eight years later, following a "successful" initial coin offering (ICO) the company "established itself as a leading blockchain ecosystem developer, building a suite of user-first blockchain products that enable anyone to easily manage, explore, distribute, and integrate blockchain assets."
It now acts as a guide for game developers, content creators and gaming communities who want to step into the cryptocurrency world but might not know where to start.
The platform allows people to create games and a number of NFTs in the shape of collectibles, art, music and real-world assets like comics, rare paintings and real estate.
According to the project's whitepaper, Enjin is aiming to solve some of the biggest challenges faced by the crypto gaming community:
Payment fraud
High fees and slow transactions
Lack of true ownership and rarity over virtual items
Digital items and currencies often tagged to one game and non-transferable between games
Games that are not tailored to user experience
Developing crypto platforms being time-consuming and expensive
Lack of real money rewards for gamers
To solve these issues, Enjin developed its own native cryptocurrency, Enjin(ENJ), an ERC-20 token powered by the Ethereum (ETH) network, meaning it can also run smart contracts. ENJ also acts as a utility token for NFTs.
ENJ is also:
Trustworthy because users can always melt their NFTs back into ENJ which increases confidence in the cryptocurrency
Existing NFTs are melted back into ENJ. The token's rarity increases, lowing supply and increasing value
Authentic
Tangible
Not influenced by inflation (because of their limited supply)
Has a minimum reserve price
Enjin has a fixed maximum supply of one billion coins, but as the ecosystem grows and the more tokens are locked into in-game digital assets, the number of ENJ circulating will decrease.
The Enjin token crowd sale, which ran from  3 October 2017 to 1 November 2017, was called a "massive success" by the company. The token's ICO raised 75,041 ETH, worth $18.9m at the time.
To date (14 April), over 874m tokens are in circulation, according to data provided by CoinMarketCap. ENJ has a market capitalisation of more than $1.3bn and is ranked as the 70th largest cryptocurrency.
It is important to note that Enjin has a dual token ecosystem. In addition to ENJ, the company also has the Efinity Token (EFI). Both cryptocurrencies work in unison, however while ENJ is used mainly for NFTs, EFI fuels the decentralised metaverse.
Will Enjin go up? Technical view
After the token's launch in November 2017, the price moved sideways for around four years, slightly peaking at the start of January 2018 and in early March 2019. It wasn't until the start of 2021 that the token really took off.
The Enjin token surged by 1,799.4% between the 1 January 2021 and 31 December 2021, rising from $0.136 to $2.5832 amid the hype around NFTs.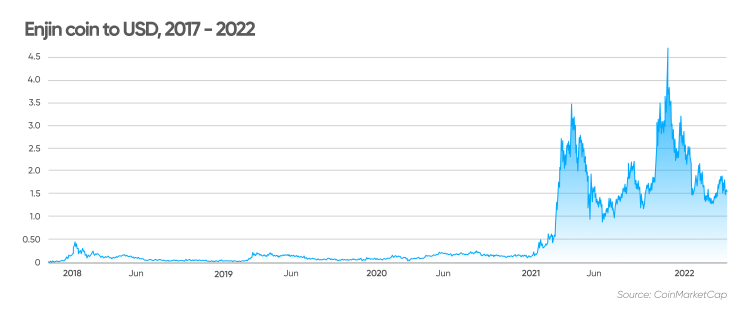 Like many cryptocurrencies, the token soared in November 2021, surging by 146.5% between 26 October ($1.9007) and 25 November 2021 when it reached its all-time high value of $4.6858. Earlier, the project enjoyed a series of positive news, including the announcement of a $100m Efinity Metaverse Fund for blockchain projects, its coin becoming accepted on NOWPayments and listed on CoinList alongside Axie Infinity's native token (AXS).
However, after a successful November, the token started on a downwards trend, losing 50.7% of its value and falling to $2.3083 by 20 December 2021.
On 21 December 2021, Enjin partnered with play-to-earn platform Senzu World and started a 1,000 ENJ giveaway  on 22 December 2021. This boosted its price by 38.05% in the next six days to $3.1867 by 26 December 2021.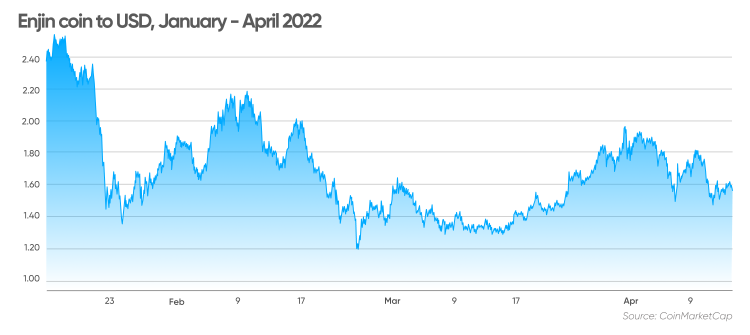 The new year has been bearish for the Enjin token as its value dropped by 41.2% between 1 January 2022 ($2.6887) and 14 April 2022 ($1.58) amid negative market sentiment as tensions rose on the Russia-Ukraine border. However, recent Enjin coin news remains positive.
In February, Enjin launched a weekly podcast called The Enjin Room that highlights the innovators and builders in the Enjin ecosystem. This was followed by the launch of Efinity parachain, first introduced in 2017 as a concept. This year, Enjin has also partnered with two play-to-earn platforms CryptoBlades and BlockTrucks.
In April 2022 Enjin released its development roadmap for the coming quarter. It lists a number of goals, including new upgrades for Efinity.io, the Alpha release of its Efinity Platform and the start of security testing of its Enjine Wallet 2.0.
Enjin token technical analysis provided by CoinCodex showed that the short-term sentiment for the token was largely bearish at the time of writing (14 April), with 21 indicators pointing to 'sell' and 10 to 'buy'.
Technical analysis provided by FXStreet senior technical analyst Ali Martinez maintained that the Enjin (ENJ/USD) forecast has potential to grow.
"Enjin Coin's price action appears to be contained between the 50-week moving average at $1.90 and the 100-week moving average at $1.23. The NFT token has been trading in this price pocket since the beginning of the year without being able to overcome resistance or crumble below support," the analyst told Capital.com.
"Only a decisive weekly candlestick close outside of the $1.90-$1.23 trading range will determine where ENJ goes next. Slicing through resistance could propel Enjin Coin to $3 or even a new all-time high at $6.80, while failing to hold above support could see it crash to $0.78."
Is Enjin a good investment?
BigONE Exchange chair in Asia, Anndy Lian, told Capital.com that despite recent downward price action, the Enjin token is one of the top 10 cryptocurrencies in the metaverse space.
"Enjin coin is a relatively low-risk investment based on its recent price movements. However, the greatest concern will be around the successful performance of NFTs over time."
by Dr. Hamed Taherdoost
"They are in fact catching up with the big boys like MANA and Sandbox. The token price seems to be holding up well despite the drop in price around one month ago. The on-chain data shows uptake in the volume of around 300 million, this signals that whales are still eying this token at the current price," Lian said.
Lian added that the Enjin metaverse has been attracting FOMO (fear of missing out) retail investors, while the Enjin ecosystem is constantly expanding with "games like Space Misfits, which is built on the Enjin blockchain" that have also helped ENJ bring in more players.
"BIGG Digital Assets Inc. … owner of Netcoins (Netcoins.ca) ("Netcoins"), an online cryptocurrency brokerage, launches six new digital assets for their users and one of which is ENJ," he added. "This is also a positive sign, putting ENJ as one of the more trusted baskets of coins recognised by institutions."
E-business professor at University Canada West, Dr. Hamed Taherdoost, told Capital.com that the token's development team has been quite successful in employing the latest technologies and gaining support from the global gaming community.
"Enjin coin is a relatively low-risk investment based on its recent price movements," he said. "However, the greatest concern will be around the successful performance of NFTs over time."
According to Dr. Taherdoost, ENJ's listing on the popular cryptocurrency platform Coinbase was one of the many factors that boosted its price at the start of 2021, as it opened a gateway to a wider variety of users to join the Enjin ecosystem.
"Other driver factors in this regard were Efinity and JumpNet as new products launched by Enjin. Besides, the price has been fluctuating around its support level that improves the likelihood to be increased in the short term," Dr. Taherdoost added.
The further development of Efinity and JumpNet, could increase ENJ's price and outlook, the professor noted.
"JumpNet provides the opportunity to trade ERC-1155 without paying transaction costs and Efinity is a decentralised blockchain that is optimised for NFTs that will offer the possibility to make free transactions among blockchain," he said.
"Despite the uncertainty in the market, no strong drop in price is expected for Enjin coin in case of making creative and smart developments in collaboration with different companies and gaming websites."
Enjin price prediction 2022-2030
Despite the recent downward price action, algorithm-based forecasting service Wallet Investor gave a bullish Enjin crypto price prediction at the time of writing (14 April).
The site noted that ENJ is "an awesome long-term investment", adding that it has a long-term earning potential amounting to 427.2%.
Based on its analysis of past price performance, the website expected that ENJ could cost $2.988 in 2023 and jump to $8.335 by 2027, surpassing its November 2021 all-time high.
DigitalCoinPrice supported the positive Enjin coin price prediction but saw a much slower pace of growth in the following years, expecting the token to grow to $2.24 by the end of 2022 and reach $3.79  by the end of 2025.
By the end of 2028, the site projected that the Enjin token could reach $5.58, surpassing its all-time high. Its long-term Enjin future price prediction showed the cryptocurrency reaching $7.20 by 2030.
Note that price predictions can be wrong. Forecasts shouldn't be used as a substitute for your own research. Always conduct your own due diligence and never invest or trade money you cannot afford to lose.
Original Source: https://capital.com/enjin-price-prediction-will-enj-go-up
Anndy Lian is an early blockchain adopter and experienced serial entrepreneur who is known for his work in the government sector. He is a best selling book author- "NFT: From Zero to Hero" and "Blockchain Revolution 2030".
Currently, he is appointed as the Chief Digital Advisor at Mongolia Productivity Organization, championing national digitization. Prior to his current appointments, he was the Chairman of BigONE Exchange, a global top 30 ranked crypto spot exchange and was also the Advisory Board Member for Hyundai DAC, the blockchain arm of South Korea's largest car manufacturer Hyundai Motor Group. Lian played a pivotal role as the Blockchain Advisor for Asian Productivity Organisation (APO), an intergovernmental organization committed to improving productivity in the Asia-Pacific region.
An avid supporter of incubating start-ups, Anndy has also been a private investor for the past eight years. With a growth investment mindset, Anndy strategically demonstrates this in the companies he chooses to be involved with. He believes that what he is doing through blockchain technology currently will revolutionise and redefine traditional businesses. He also believes that the blockchain industry has to be "redecentralised".