The recent FTX crisis has caused a whirl in the crypto world with many investors pulling out their assets from the market that's already dominated by bearish sentiment.
Cardano's ADA, has been on a bear run in 2022, losing over 89.8% of its gains since the all-time high of $2.9706 on 3 September 2021 to $0.3032 on 21 November 2021.
How do Cardano futures work and where could the cardano futures price be headed? Read on…
What are cardano futures?
Cryptocurrency futures are contracts between two parties that are betting on the future price of a digital asset. When traders purchase a cryptocurrency's futures contract, they gain exposure without owning the underlying coin, agreeing to pay a certain price for the asset in future. When the futures contract expires, however, the trader has to settle it – in other words, they buy the coin.
The Cardano blockchain was launched in 2017 as a third-generation cryptocurrency platform. It has a Proof-of-Stake (PoS) consensus mechanism and was designed to be a more scalable, sustainable and interoperable version of Ethereum. For this reason, the blockchain's supporters labelled Cardano the "Ethereum killer".
In September 2021, Cardano gained smart contract capability, allowing for the creation of decentralised apps (dApps), non-fungible tokens (NFTs), games, new cryptocurrencies and more.
ADA is the blockchain's native cryptocurrency named after the 19th century mathematician Ada Lovelace. The coins are used as a secure exchange of value and to pay for transaction fees
Cardano futures, therefore, are contracts between two parties that have agreed to buy and sell a specific amount of ADA at a specified price. Cardano futures are often known as Cardano perpetual futures or cardano perpetual swaps.
Traders who purchase ADA futures are betting that the price of the cryptocurrency will surge in the future. If that happens, they will profit from the price increase. If the price of Cardano falls, however, they will lose money.
Cardano futures history
Cardano futures started trading on Binance at the end of January 2021. They enjoyed bullish momentum, jumping by more than 4,100% between January and May 2021. The surge came as Cardano continued development of its smart contract capabilities and launched a peer-to-peer testnet to a small group of users.
After a slight dip in July 2021, the ADA futures price climbed to the all-time high of $2.9706 on 3 September 2021. The rally came ahead of the blockchain's Alonzo hard fork, which introduced smart contract capabilities to Cardano.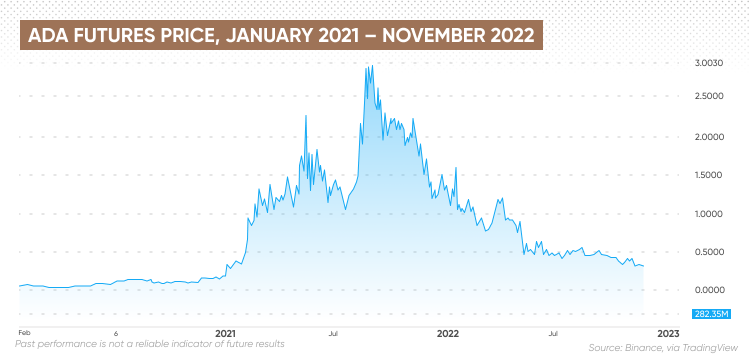 Following the bull run, the ADA futures contract dipped by more than 35% by 27 October 2021 and continued on a downward trend.
Cardano futures price fell  to $0.3032 on 21 November 2022 amid negative market sentiment. The recent news on the downfall of the FTX crypto exchange and its native FTT  token added to the bearish price action.
What is driving cardano futures?
The collapse of the FTX crypto exchange affected many major cryptocurrencies, cooling investor sentiment. CoinMarketCap data showed that the total cryptocurrency market capitalisation fell below $800bn on 11 November, when FTX filed for Chapter 11 bankruptcy, the lowest level since early 2021.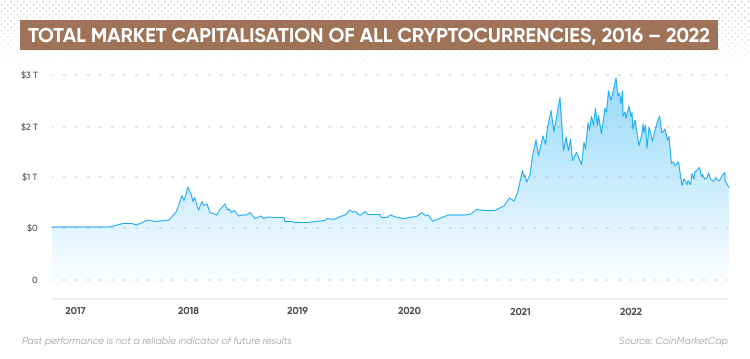 "Although aftereffects of the FTX shock will still likely surface at some point and the industry will have to adopt more financially transparent operation and come under stricter regulatory oversight, the worst part may have passed," Bitbank crypto market analyst Yuya Hasegawa said in his weekly view.
Meanwhile, the Cardano blockchain saw a spike in activity between 9 and 14 November as the number of new addresses on the blockchain surged from 0 to 11,240, according to data on Cardano Blockchain Insights.
The network, however, had seen a surge in the number of transactions on 8 November, which surpassed 391,000 as FTX crashed.
Cardano's founder, Charles Hoskinson, said in a live YouTube stream on 9 November:
"I think this might be the bottom, one of the last ones to deal with. It's going to be hard to predict how bad it will be, and it could certainly potentially be very bad. There are not many more firms that were like FTX or Alameda or like, Three Arrows Capital, and so forth. At least in this cycle, I truly do hope that this is the last cycle of this nature."
In other cardano futures news, Hoskinson told CoinDesk on 18 November that Cardano is looking to launch a new privacy blockchain and digital asset which he stated to be something "the enterprise absolutely wants".
Cardano futures price prediction for 2023 and beyond
Algorithm-based prediction websites did not provide cardano futures forecasts, so let's have a look at the latest ADA/USD outlook.
In line with the latest downward price action, algorithm-based forecasting service Wallet Investor gave a bearish ADA price prediction at the time of writing (21 November) noting that ADA was "a bad long-term investment".
Based on its analysis of past price performance, Wallet Investor predicted that the token could fall to $0.01016  in 2023. The site did not provide an ADA price prediction for 2027.
DigitalCoinPrice, on the other hand, gave a bullish ADA to USD price prediction expecting the token to grow to $0.39 by the end of 2022 and reach $1.30 on average in 2025. By 2027, the site predicted that the price of ADA tokens could reach $1.59. Its long-term token forecast showed the cryptocurrency reaching $4.35 by 2030.
Meanwhile,  Anndy Lian, the chief digital advisor at the Mongolian Productivity Organisation and author of 'NFT: From Zero to Hero', told Capital.com that mid-term technical indicators looked bearish (as of 21 November). He added:
"Sellers' pressure increases in the cardano market. I hope the longer term potential factors like Midnight and USDA can change things for the better."
News that the group behind Cardano, Input Output Global, is planning to release a new privacy-focused blockchain could have a potential effect on ADA futures, Lian added in his cardano futures price prediction.
In addition, the launch of USDA, the first fully fiat-backed regulated stablecoin on Cardano, will start trading in early 2023, could lead to a hike in the cardano futures price.
"If executed well, I see this will help ADA decentralised finance ecosystem, thus bringing in more liquidity and support into the network," Lian added.
Final thoughts
Remember, analysts' and algorithm-based predictions can be wrong. If you're considering entering the cardano futures market, we recommend you always conduct your own due diligence, looking at the latest news, a wide range of analyst commentary, technical and fundamental analysis. Note that past performance does not guarantee future returns and cryptocurrency markets remain extremely volatile. And never trade money you cannot afford to lose.
Source: https://capital.com/cardano-futures-price-prediction-ada
Anndy Lian is an early blockchain adopter and experienced serial entrepreneur who is known for his work in the government sector. He is a best selling book author- "NFT: From Zero to Hero" and "Blockchain Revolution 2030".
Currently, he is appointed as the Chief Digital Advisor at Mongolia Productivity Organization, championing national digitization. Prior to his current appointments, he was the Chairman of BigONE Exchange, a global top 30 ranked crypto spot exchange and was also the Advisory Board Member for Hyundai DAC, the blockchain arm of South Korea's largest car manufacturer Hyundai Motor Group. Lian played a pivotal role as the Blockchain Advisor for Asian Productivity Organisation (APO), an intergovernmental organization committed to improving productivity in the Asia-Pacific region.
An avid supporter of incubating start-ups, Anndy has also been a private investor for the past eight years. With a growth investment mindset, Anndy strategically demonstrates this in the companies he chooses to be involved with. He believes that what he is doing through blockchain technology currently will revolutionise and redefine traditional businesses. He also believes that the blockchain industry has to be "redecentralised".