We've heard of earn-to-play tokens but what does a learn-to-earn cryptocurrency exist?
Now it does!
The Hooked Protocol (Hook) is one of the first platforms to incorporate GameFi technologies with learning and cryptocurrencies by teaching new and experienced crypto investors about the world of Web3 through playing games.
Even though its native token, HOOK, was launched on 1 December 2022, the token is already making headlines with a surge of more than 40% on its second day of existence.
What does the Hooked Protocol price prediction suggest?
What is Hooked Protocol (HOOK)?
Hooked Protocol is the "on-ramp layer for massive Web3 adoption to form the future of community-owned economies".
The application was created with the aim of helping everyone, whether they have had previous crypto experience or not, enter, own and earn a share of crypto through a gamified experience. In addition, the platform is providing crypto investors with a number of learning and earning tools, via gamified learning, that will help them enter and adapt to the world of Web3 through playing games.
Its most prominent game is Wild Cash, "the all-in-one Learn-to-Earn dApp [decentralised application]" that rewards users in GOLD tokens for their participation in "delicately tailored quiz challenges".
According to the Hooked Protocol website, Wild Cash is the first and only Web3 application to dominate a Google Play ranking ever having achieved more than 2.5 million monthly active users, over 50,000 new users and 90% of user participation in three months after its launch (the DApp was launched in the third quarter of 2022).
The platform is targeting "billions of Web2 internet users who can be onboarded to Web3" through its learn-to-earn initiative in order to solve one of the biggest unresolved challenges of the crypto industry – the lack of new users.
"Potentials for intrinsically dynamic modern virtual economy after covid are recognized and scaled up, leading to upsurging demands for trusted cooperation and sustainable economic model in Web3," Hooked Protocol said in its whitepaper.
The platform has a dual token system:
HOOK: its governance token that reflects the value of the Hooked protocol ecosystem
Hooked Gold Token (HGT): an in-ecosystem only utility token through which the community is incentivised.
Apart from governance, HOOK is also used to pay for gas fees in on-chain activities and staking incentives as holding rewards. In addition, by holding HOOK tokens, community members may gain access to exclusive events and grants to buy limited editions of in-platform non-fungible tokens (NFTs).
"HOOK will be put into innovation practices which overall benefit the ecosystem of both individual participants and businesses, ensuring considerable liquidity and token value will grow in direct proportion for the success of the whole community," the coin's whitepaper noted.
A bullish start in a bear market
HOOK launched on CoinMarketCap on 1 December 2022 and within a day had gained over 40%, up from $2.0626 to $2.9016, its all-time high. In general, HOOK has had a pretty bullish start, a significantly positive aspect in an overall bear market.
The bull run in the coin's price, however, did not last long as it lost over 20% of its gains on 2 December 2022, dropping to around $2.30 as the platform warned investors on Twitter that all HOOK tokens for sale on PancakeSwap were fake.
HOOK to USD price chart, December 2022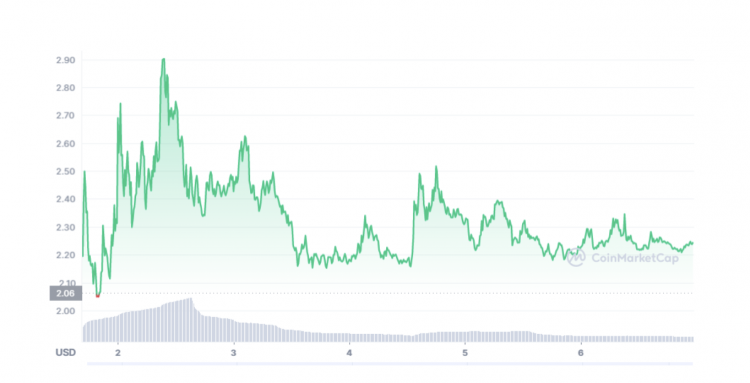 Source: CoinMarketCap
By the following day, the cryptocurrency managed to regain some of its losses, rising 13.8% to $2.617, but soon fell back down to $2.15.
Between 3 and 4 December 2022, HOOK fluctuated between $2.10 and $2.30 before surging twice, first by 15.8% to $2.4904 from $2.15 and then by an additional 1% to $2.517, possibly hiked by the platform's whitelist giveaway.
Since surging to $2.517 on 4 December 2022, HOOK's value has been dipping, down by 9.8% to $2.27 as of 7 December 2022.
According to data published on CoinMarketCap, as of 7 December 2022 the total number of HOOK coins in circulation is capped at 500 million. The cryptocurrency does not have a maximum supply, meaning that an unlimited amount of tokens can be mined. HOOK's circulating supply stands at 50 million.
Latest news driving HOOK
Perhaps, some of the biggest news, news driving HOOK in recent days is the token's listings on major exchanges.
On 2 December 2022, PancakeSwap announced that "the HOOK fam is now live on" the platform, meaning the token was available for purchase on the crypto exchange.
In addition, the HOOK cryptocurrency has been highly driven by the completion of the Hooked Protocol subscription launchpad and its listing on Binance, one of the most popular crypto exchanges worldwide.
According to a press release published by Binance, over 114,000 investors committed more than 9 million BNB during the subscription period, showing high interest for the HOOK cryptocurrency.
In other news, on 5 December 2022 the Hooked Protocol platform announced the end of its very first Hooked Web3 Quiz Maker Contest, which saw the winner scoring $100 equivalent of HOOK, with the platform promising more "fun" to come soon.
In a blog post published on Medium on 5 December 2022, the Hooked Protocol noted that the platform is working on bettering its user acquisition methodology in order to further expand the platform on a more global level.
In addition, the Hooked Protocol will focus on user engagement by "adding more content and developing new features to keep users engaged".
Finally, "on the user rewards and commitment side" the platform is planning to launch an incentive mechanism in the following weeks.
HOOK is also planning to launch a product roadmap and airdrop plan.
So, what is the overall sentiment on the future Hooked Protocol price prediction?
Hooked Protocol price prediction
According to data provided by BitNation, as of 7 December 2022 the Hooked Protocol Price prediction for 2023 sees the token surging to $6.29 and reaching $9.44 by 2025. The website's long-term Hooked Protocol coin price prediction saw the coin rising to $15.52 by 2028 and $22.02 by 2030.
DigitalCoinPrice also supported the bullish Hooked Protocol crypto price prediction, seeing the token averaging $5.73 in 2023. The website's Hooked Protocol price prediction for 2025 saw the coin surging past an average of $9 and exceeding $11 in 2027.
The website's Hooked Protocol price prediction for 2030 saw the token passing an average $32.
Anndy Lian, chief digital advisor at the Mongolian Productivity Organisation and author of NFT: From Zero to Hero, told Capital.com that the recent HOOK price surge was due to the cryptocurrency's listing on Binance:
"Based on past track records for Binance Launchpad projects, users highly value such projects. Hence hitting numbers like this are not uncommon."
He also added that, at the time of launch, only 10% of the tokens were in circulation, which, according to Lian, is an easier amount of currencies to manage.
"I would like to see how Hooked Protocol fairs in the bear market and how 'quiz-to-earn' rewards can be sustained over a more extended period. A similar comparison with GMT would be fair too. I remember them jumping to $3.80, and then their price plummeted 90% shortly. If they can manage the rewards, continue to build on its community and use base. They could be a considerable force to reckon with."
To conclude, Lian noted that in the long run, only time will tell on where the Hooked Protocol price prediction will head.
The Hooked Protocol whitepaper also shared an outlook on what could potentially affect the future HOOK price predictions noting that the coin's "long-term value is tied with the confidence people hold for the project but as opposed to HGT, supply of HOOK is fixed and designed to be deflationary".
Note that HOOK/USD predictions can be wrong and shouldn't be used as a substitute for your own research. Always conduct your own due diligence looking at fundamental and technical analysis, a wide range of commentary and latest news. Remember that past performance does not guarantee future returns. And never trade money that you cannot afford to lose.
Source: https://capital.com/hooked-protocol-hook-price-prediction
Anndy Lian is an early blockchain adopter and experienced serial entrepreneur who is known for his work in the government sector. He is a best selling book author- "NFT: From Zero to Hero" and "Blockchain Revolution 2030".
Currently, he is appointed as the Chief Digital Advisor at Mongolia Productivity Organization, championing national digitization. Prior to his current appointments, he was the Chairman of BigONE Exchange, a global top 30 ranked crypto spot exchange and was also the Advisory Board Member for Hyundai DAC, the blockchain arm of South Korea's largest car manufacturer Hyundai Motor Group. Lian played a pivotal role as the Blockchain Advisor for Asian Productivity Organisation (APO), an intergovernmental organization committed to improving productivity in the Asia-Pacific region.
An avid supporter of incubating start-ups, Anndy has also been a private investor for the past eight years. With a growth investment mindset, Anndy strategically demonstrates this in the companies he chooses to be involved with. He believes that what he is doing through blockchain technology currently will revolutionise and redefine traditional businesses. He also believes that the blockchain industry has to be "redecentralised".