Anndy Lian's comments were featured on CryptoNews on 27 September 2020. He believes that DeFi will also result in more and more bitcoins being locked up, "which will bring another bull market for bitcoin."
"This inter-related relationship between Bitcoin and Defi works hand in hand with the demand as seen in the market. The breakout trend in Defi for 2020 will continue. New terms will supersede "Yield Farming"  and a more stable environment will be established as you see the bigger exchanges like Binance, Gemini, Huobi and Okex taking the lead." Anndy Lian added.
Anndy Lian: "The breakout trend in #Defi for 2020 will continue. New terms will supersede "Yield Farming"  and a more stable environment will be established as you see the bigger exchanges like @Binance, @Gemini, @HuobiGlobal and @Okex taking the lead."

— Anndy Lian #Blockchain #Crypto (@anndylian) September 28, 2020
Read more about the article on Google News:
https://news.google.com/articles/CAIiEGyo6SpEJbiRN5EMTwYXqjoqMwgEKioIACIQOG0vTzP65T11pGTnFueHJCoUCAoiEDhtL08z-uU9daRk5xbnhyQwg7vbBg?hl=en-SG&gl=SG&ceid=SG%3Aen
'If DeFi Collapsed, Bitcoin Would Still Be Bitcoin'
The core driver of DeFi is its use case, not Bitcoin.
"BTC is money, DeFi is banks, that's how people should think about it."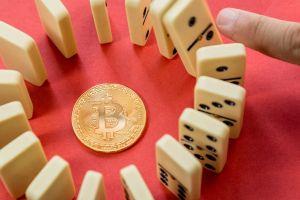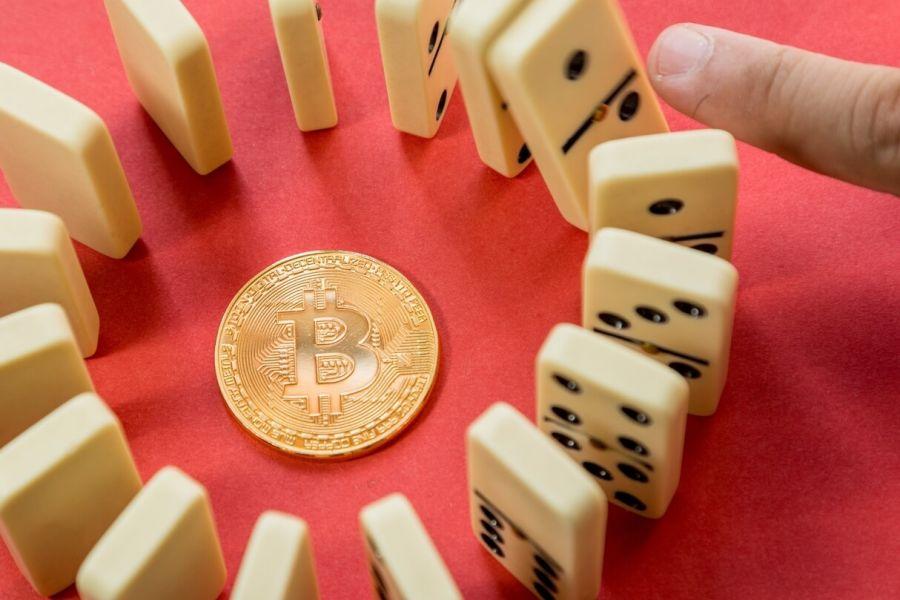 Bitcoin (BTC) and DeFi both had a good summer. After the coronavirus-induced collapse of March, the price of bitcoin rose from USD 3,500 to just over USD 12,000 in August, while the total value locked into DeFi platforms rose from USD 1bn in June to almost USD 12bn in late September.
It's tempting to view the performances of bitcoin and DeFi as connected. Given that the supply of wrapped bitcoin has ballooned from wBTC 500 to almost wBTC 90,000 in the past 12 months, it would seem that bitcoin holders have been driving the growth of DeFi.
However, industry figures speaking to Cryptonews.com said that, while BTC has been a significant player in DeFi's growth, its importance within the DeFi ecosystem will wane over time. And while some may be tempted to regard Bitcoin and DeFi as interdependent, most commenters believe that each can survive without the other.
Bitcoin boosts DeFi
There's little doubt that bitcoin — and in particular wrapped bitcoin — has spurred at least a portion of DeFi's impressive growth over the past few months – USD 1.4bn worth of BTC is locked in DeFi today, or almost 13% of total value locked (TVL) in decentralized finance projects.
As data from Defi Pulse indicates, the demand for wBTC began rising exponentially from the end of June onwards.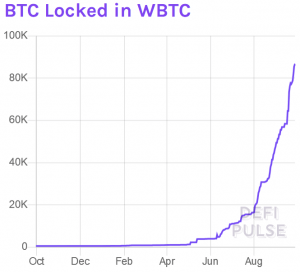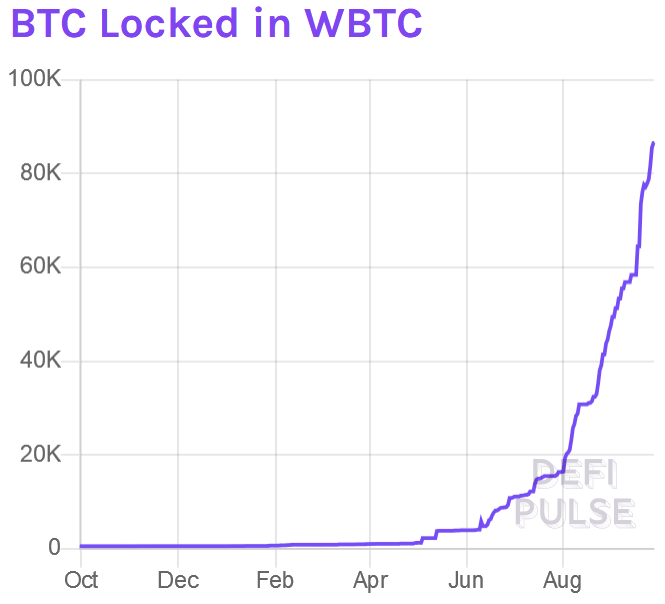 And data also indicates, it was around the end of June that TVL into DeFi platforms suddenly began rising more strongly, as ethereum (ETH) locked in DeFi jumped also this past summer.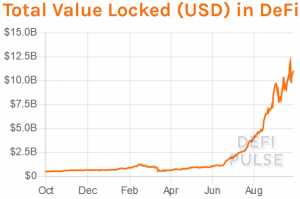 Industry figures agree that the two trends are connected, even if they have their own opinions on how long the interconnection may continue.
"Yes, I think the use of wBTC pair mining will boost the Defi market to a certain extent," said crypto advisor and author Anndy Lian.
"According to the data released today (the second day of Uniswap Liquidity Mining), 50% of the miners used the wBTC/ETH pair in the initial mining, and most of them are big whales."
Analyst and CryptoMondays Partner Lou Kerner suggested that bitcoin will remain an important part of DeFi in the medium term, not least because it still accounts for over half of the total value of all cryptoassets.
"Given its scale, bitcoin will be an increasingly significant asset in DeFi. But over time, as real world assets are tokenized and enter DeFi, bitcoin relevance will decrease," he told Cryptonews.com.
However, while BTC has played a role in DeFi's recent growth, ADVFN CEO Clem Chambers doesn't see it as the main factor.
"Bitcoin will influence DeFi but it is not the core driver. The core driver is the powerful use case," he said.
DeFi boosts BTC
Conversely, commenters agree that DeFi is boosting BTC, or that it will in the near future. By offering the chance to earn an additional return on the bitcoin you own, DeFi's liquidity mining and yield farming is making BTC seem even more attractive to investors, particularly during a period of reduced economic opportunity.
"DeFi has made BTC even more attractive as an investment," according to Kerner.
That said, Chambers estimated that most of DeFi's boost to BTC still awaits us in the future.
"It will [boost bitcoin] but not yet. DeFi is still underground with only the core early adopters 'getting it'," he said.
Aside from enhancing the returns offered by bitcoin, Anndy Liang pointed out that DeFi will also result in more and more bitcoins being locked up, "which will bring another bull market for bitcoin."
Mutual aid, not mutual interdependence
While DeFi and bitcoin both help each other in various ways, commentators seem that they don't believe that each needs the other to survive.
"Bitcoin crashing would certainly slow the growth of DeFi, but one is not dependent on the other," said Kerner.
Likewise, if DeFi were to somehow collapse, Interlapse CEO and Co-founder Wayne Chen said that BTC would continue as before.
"Bitcoin has seen massive growth over the past decade and will certainly continue its momentum," he told Cryptonews.com. "If DeFi collapsed, Bitcoin would still be Bitcoin and continue its growth and adoption."
On the other hand, some think that bitcoin crashing would have a severe effect on DeFi, since even if parts of the DeFi ecosystem survived, altcoins would struggle.
"Most of the 'value' coins will go to zero if the price of bitcoin crashed significantly or collapsed," suggested Lian. "One thing is for sure: no coin (maybe tiny s***coins can) can survive if bitcoin collapses."
The future: parallel, not pivotal
As for the more distant future, some experts believe that DeFi and Bitcoin will increasingly operate in parallel, rather than remain interlinked.
"BTC is money, DeFi is banks, that's how people should think about it. The linkage is parallel not pivotal," argued Chambers.
Chen claims that it's in the interests of DeFi and Bitcoin that each maintains a degree of independence from the other in the future.
"Industry professionals will likely try to interrelate DeFi and Bitcoin. However, this needs to be done cautiously so that it doesn't turn into a complicated financial product which can ultimately confuse the market," he said.
Anndy Lian isn't completely sure that DeFi will be around in several years' time. However, if it is, he said there's a chance other cryptoassets could emerge to reduce BTC's influence on DeFi.
"But personally I do hope to see new players coming into challenge Bitcoin's supremacy," he said. "With challenges, there are improvements. This is what's lacking in today's crypto space."
Original Source: https://cryptonews.com/exclusives/if-defi-collapsed-bitcoin-would-still-be-bitcoin-7827.htm
Anndy Lian is an early blockchain adopter and experienced serial entrepreneur who is known for his work in the government sector. He is a best selling book author "Blockchain Revolution 2030".
Currently, he is appointed as the Chief Digital Advisor at Mongolia Productivity Organization, championing national digitization. Prior to his current appointments, he was the Chairman of BigONE Exchange, a global top 30 ranked crypto spot exchange and was also the Advisory Board Member for Hyundai DAC, the blockchain arm of South Korea's largest car manufacturer Hyundai Motor Group. Lian played a pivotal role as the Blockchain Advisor for Asian Productivity Organisation (APO), an intergovernmental organization committed to improving productivity in the Asia-Pacific region.
An avid supporter of incubating start-ups, Anndy has also been a private investor for the past eight years. With a growth investment mindset, Anndy strategically demonstrates this in the companies he chooses to be involved with. He believes that what he is doing through blockchain technology currently will revolutionise and redefine traditional businesses. He also believes that the blockchain industry has to be "redecentralised".