First launched into motion in late July, the Velocity Series, a digital art-focused joint project between Oracle Red Bull Racing (ORBR) and crypto exchange Bybit, with curation from AOI, has recently stepped into the third of its four drops.
The web3 project melds speed, technology, and artistry from globally recognized digital artists — which have included, up to this point, Rik Oostenbroek, Per Kristian Stoveland, and most recently Art Blocks founder and Chromie Squiggle creator Erick Calderon, aka "Snowfro."
Digital artworks featured in the project draw inspiration from race team analytics and, more specifically, the RB19 F1 car's telemetry. Additionally, each stage aligns with the 2023 Formula 1 races in the Netherlands, Japan, the United States, and Abu Dhabi.
For an exclusive inside look at the concept, curation, and creation of the Velocity Series, we spoke with ORBR, Bybit, AOI, and Calderon.
Concept
Taking a closer look at the concept, ORBR explained to us that "The merging of art and racing in the Velocity Series represents a dynamic fusion of two seemingly distinct worlds."
It explained that the project was designed with a dual purpose to offer broader motorsport enthusiasts an immersive introduction to the realm of digital art, as well as provide its own fans with a tangible connection to their favorite team through unique team-inspired designs.
Other considerations included a fan engagement initiative designed to introduce web3 fans to the world of racing, with an underlying hope to transform them into lifelong ORBR supporters.
"This collaboration underscores both Oracle Red Bull Racing and Bybit's commitment to constantly innovate and push boundaries in both motorsport and the digital space," shared ORBR.
ORBR, known for its collaborations with traditional artists like Mr.Doodle, chose a more avant-garde path in the web3 domain. They commented, "We identified two clear markets within the world of web3 for us to focus on – native crypto enthusiasts and ORBR fans who are web3 non-rejectors, and this project aimed to serve the crypto enthusiast audience of people already appreciative of existing digital art."
Emphasizing digital and generative art, ORBR highlights its commitment to "pushing the boundaries of technology and innovation." In the Velocity Series, ORBR and Bybit aimed to make digital art accessible to diverse collectors, reflecting their vision of inclusivity. They stated, "This decision is rooted in our vision of inclusivity, inviting diverse participants into this pioneering movement."
The series offers both exclusive and publicly available collectibles, evolving with the season for a richer experience. Additionally, a remix competition via Joyn.XYZ is underway until October 24. ORBR expressed their admiration for Snowfro's /// collection, noting its minimalist yet impactful theme, and said, "As the name suggests, /// embodies a minimal yet impactful theme. We were truly inspired by how artworks with similarly simple motifs, like Dmitri Cherniak's The Goose and Grant Yun's Cow, successfully encouraged the artistic community to generate remixes."
Curation
Curating the collection is AOI, a foundation for emerging art and technology with a focus on the convergence of the two — which the foundation shared it found a "vibrant expression" of in the Velocity Series project.
"The curation process was a meticulous journey, where we facilitated the creative interaction between the artistic realm and the data-driven domain of Oracle Red Bull Racing," AOI shared, explaining, "Our role was to provide a fertile ground where artists could explore, interpret, and transcend the conventional boundaries of digital art inspired by racing data."
Speaking to the artist selection process, AOI shared that "Our criteria were rooted not only in artistic excellence but also in the ability to synergize with big brands."
The foundation explained that it sought out artists whose past engagements with notable brands "honed their capability to align creative prowess with brand ethos, ensuring a seamless blend of artistic and commercial objectives."
However, one of the other and perhaps more significant considerations was identifying artists who "embrace boundary-pushing and are unafraid to explore never before seen concepts."
Creation
Calderon delved into the inspirations behind stage three of the Velocity Series, highlighting his love for driving and speed as major influences on the /// project. He elaborated, "As I have participated in the world of racing, mostly as a hobbyist, I see extensive use of italicized fonts to demonstrate a more dynamic vibe, and the forward slash is a character that is in an eternal state of italics and therefore felt like a great way to encapsulate motion or speed in a single character."
The /// project aimed to distill motion into its most basic form, resonating with Calderon's affinity for minimalism and echoing the simplicity of his renowned Chromie Squiggle collection.
In addition to its visual simplicity, /// introduces a tactile element through embroidery. Calderon commented on this choice, saying, "There are also limitations to what can be done, and while I'm excited to potentially push those boundaries in the future, this initial project was going to be complex enough simply to make it exist and work. So something simple felt critical, and I can apply my color techniques to simple shapes — although again, it was a learning process to figure out how to make gradients within the limitations of embroidery."
Despite its physical limitations, some fans of the work on X have shared that they see a direct connection to Chromie Squiggle in ///, something Calderon said he loves to hear, as he hopes to "continue to apply a common thread to my work where it is recognizable as being part of the same body."
He expanded on this thought, stating, "Perhaps specifically to the micro-brand element of the project, what PFPs and GenArt have taught me is an inherent desire for people in the digital realm to express themselves as individuals within a broader family or group."
Calderon compared the constraints of embroidery to custom ceramic tile mosaics, a technique he used prior to Chromie Squiggle and employed in his recent project, heart + Craft, with Prohibition's Jordan Lyall. Discussing the choice of embroidery, Calderon clarified that it was crucial for him, saying it was a key component of his involvement in the Velocity Series.
He confessed, "To be perfectly candid, I'm utterly overwhelmed and overcommitted as it is," and added, "While I'm always proud and excited for new opportunities to get to express myself through art, I have had many of those opportunities already and felt that I could not justify the bandwidth that was going to go into this unless I could do something that tested new ideas."
Calderon revealed a long-standing interest in generative embroidery, having pitched the idea of a supporting infrastructure to Art Blocks over a year ago. He remarked, "It was not utilized much, and I realize oftentimes it is critical to demonstrate a proof of concept for others to be willing to go deep into rabbit holes to want to consider a concept for their own work. I definitely had to intimately learn the craft of embroidery to pull this together, which required hours of research through trial and error."
He expressed his enthusiasm, stating, "I've been really excited to demonstrate generative embroidery at scale for a really long time, and this provided the perfect opportunity to showcase what Art Blocks Engine built that facilitates this."
Calderon emphasized the significance of the live algorithm in generative embroidery. He explained, "At Art Blocks, we render PNGs basically in an effort to be backward compatible with the majority of aggregation platforms, but the reality is that the digital artwork is animated and has options for the user to customize it based on their mood, whether in a party mood or a lonely mood, you have control of the way the digital is presented on your screen, down to the background color." He also provided insight into the interactive features of the artwork, allowing users to modify its appearance using various keyboard controls.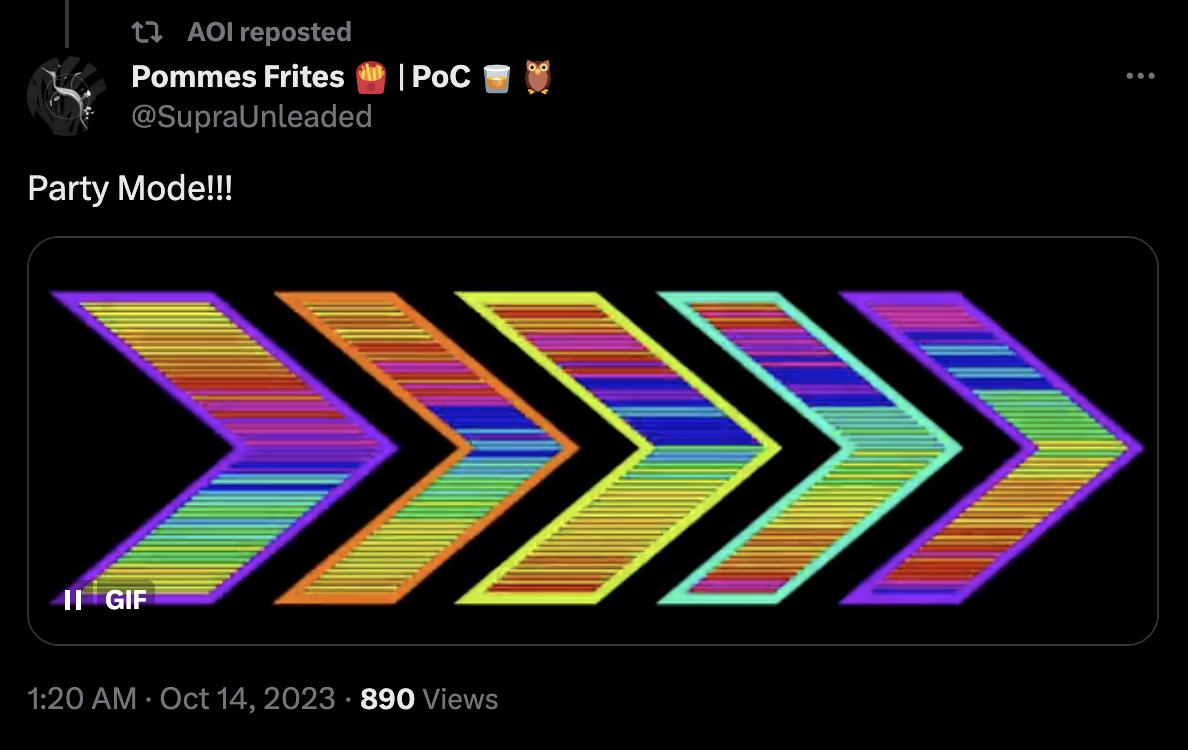 Calderon emphasized the importance of aligning the physical and digital realms in the world of NFTs, stating, "What felt critical though is that the main subject would match with the embroidered output, which is also generated by the algorithm."
He introduced a concept called "digital optional/physical optional" to promote wider adoption of NFT technology. Calderon believes that participation in the content a creator produces shouldn't be determined solely by one's presence in the physical or digital space.
Calderon remarked, "They can keep that physical object — imagine a scratch-off with a seed phrase or an IYK-linked product and onboard into web3 at their own pace, on their terms." He also fondly mentioned collaborating with his wife Mara on the Velocity Series, saying, "I've really enjoyed collaborating with my wife Mara, as she's been so supportive of this crazy journey I've been on over the last three years and here there was a project that could lean into her skillset and area of expertise."
Catalyst
"As the curtain falls on this project, our aspiration is to leave a lasting imprint on the digital art community," shared Anndy Lian, head of partnerships at Bybit, adding, "We envisage the Velocity Series as a catalyst for more such innovative rendezvous between new communities, fostering a culture of exploration, learning, and appreciation for digital art that transcends traditional boundaries."
Calderon further outlined that there is a general incompatibility between the ability to prove ownership of a digital object and the ability to prove ownership of a physical object. As a result, he sees the digital object as a permission mechanism to facilitate the creation of the physical — rather than a one-to-one relationship like a COA or Soul Bound Token where the two are locked together.
In conclusion, he shared, "Projects like this one really let me test these ideas out, especially if over time we see people take the embroidery file that comes with their mints and use it to make their own stuff like backpacks and shirts, etc., because they are the owners of the work."
Teasing at what's to come, Oracle Red Bull Racing said, "We are announcing the fourth artist very soon. They are, in our opinion, a real innovator in the space, and they have released a number of collections recently that are pushing the boundaries in terms of digital art and interactivity."
Source: https://nftnow.com/features/exclusive-inside-snowfros-collaboration-with-oracle-red-bull-racing/
Anndy Lian is an early blockchain adopter and experienced serial entrepreneur who is known for his work in the government sector. He is a best selling book author- "NFT: From Zero to Hero" and "Blockchain Revolution 2030".
Currently, he is appointed as the Chief Digital Advisor at Mongolia Productivity Organization, championing national digitization. Prior to his current appointments, he was the Chairman of BigONE Exchange, a global top 30 ranked crypto spot exchange and was also the Advisory Board Member for Hyundai DAC, the blockchain arm of South Korea's largest car manufacturer Hyundai Motor Group. Lian played a pivotal role as the Blockchain Advisor for Asian Productivity Organisation (APO), an intergovernmental organization committed to improving productivity in the Asia-Pacific region.
An avid supporter of incubating start-ups, Anndy has also been a private investor for the past eight years. With a growth investment mindset, Anndy strategically demonstrates this in the companies he chooses to be involved with. He believes that what he is doing through blockchain technology currently will revolutionise and redefine traditional businesses. He also believes that the blockchain industry has to be "redecentralised".