Data reveals that certain bigger altcoins (e.g. BNB, XRP, ADA, DOGE, and also ETH to a lesser extent) have become markedly less correlated with BTC over recent months.
The bull market changes the correlated relationship between some altcoins and Bitcoin. It has not significantly changed it though. What we are seeing now is an overhyped and oversubscribed market. There is an overflow in liquidity. Community members and supporters are buying some of the altcoins thinking that it will give them 10-20X ROI. They also think that Bitcoin has hit its maximum price level during this period. Therefore moving their investment into altcoins. And that is why we are seemingly seeing less correlation. But if you watch the market closely, whenever Bitcoin is down, they are all down too.
This recent decline in correlations is temporary. Bitcoin is still the big brother with slightly over $1 trillion in market cap. Bitcoin also takes up more than half of the entire crypto-verse. I would expect Bitcoin to continue taking the lead. If big brother is down, all will be down. We can see this more impactfully when we hit bearish like situations.
In the shorter term, especially in this bull market, this divergence is good for traders and investors. Retail investors are gaining more. Social traders are also getting more. Professional investors are getting even more.
In the longer term, if the top few altcoins can continue to generate out good results in their token price and real business value that is generating good revenue and profits, it is still good for everyone.
Personally, I still prefer Bitcoin to be the poster boy. We are still early in this crypto industry. Any failure will be glaring. Altcoins diverging from the Bitcoin trend may not be convincing enough especially so to the whales and institutional investors who still prefer Bitcoin.
Lastly, I would like to thank CryptoNews and Simon Chandler for quoting me in the article.
View the original article at https://cryptonews.com/exclusives/bitcoin-s-correlation-with-altcoins-is-declining-again-what-10131.htm or on Google News.
Bitcoin's Correlation with Altcoins is Declining Again. What Does it Mean?
Bitcoin (BTC) has long been accustomed to being the dominant cryptoasset, yet recently its share of the overall crypto market capitalization has declined. From standing at around 70% at the start of the year, it has since fallen below 50%, highlighting how other cryptoassets are increasingly starting to take a bigger share of recent gains.
The logical extension of this decline in dominance is that correlations between bitcoin and other coins have also begun to subside. As far back as a year ago, pretty much all the leading cryptoassets had a correlation with BTC of 0.9 and above (1 being the maximum), but in recent weeks this figure has sunk below 0.3 for many of the top-ten cryptos.
Opinion among analysts regarding this decline is mixed. While some claim it's the temporary result of an expansionary bull market, others say that declining correlations represent a fundamental shift in the industry, as other coins beyond BTC increasingly prove their value propositions to investors.
Been there, done that
If you rewind to the end of April 2020, ethereum (ETH), XRP, dogecoin (DOGE), and cardano (ADA) were all heavily correlated with bitcoin, at ratios of 0.95, 0.92, 0.91 and 0.95, respectively. Basically, whenever bitcoin rose or fell in price they all did the same, with their movements arguably little more than an expression of bitcoin's performance.
As the graph below indicates, things began to change in the second half of the year.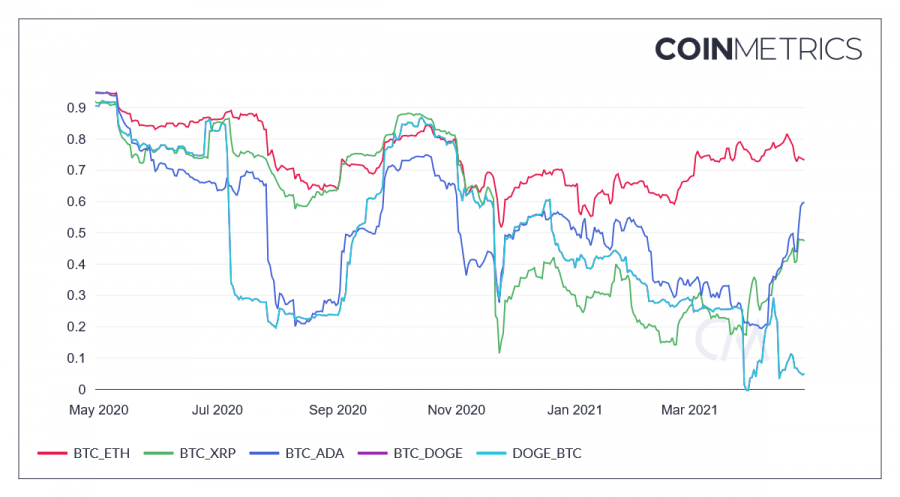 There was a gradual subsidence up until July/August, when bitcoin (and to a lesser extent, ethereum) began rising in price, leaving many altcoins behind. Despite a recovery in correlations in October, things began to drop again from November, when bitcoin's bull run really began picking up momentum.
Again, there was a partial recovery leading into January of this year, but correlations have been falling quite heavily since February. This is precisely when numerous altcoins began making up for lost time, rising in price as many bullish investors looked for the next big thing (now that BTC may seem a little expensive).
"The weakening correlation between major altcoins and bitcoin in a bull market is not new. As ETH and top altcoins rally during bullish spells, they often post higher returns compared to BTC, which in turn causes the correlation to drop," said Robbie Liu, a market analyst at OKEx Insights.
Liu noted that pretty much the same phenomenon was observed during the 2017–2018 bull run. "The most notable example was in January 2018, when the correlation coefficient between BTC and ETH fell from above 0.8 to a negative value," he told Cryptonews.com.
Nearly every analyst agrees that the drop in correlations is largely the product of the current bull market.
"In the 2017 bull market, bitcoin led the pack early on, but as investors gained confidence in the longevity of the boom, they increasingly looked to invest in smaller cryptos, which started to push those prices up faster than bitcoin's. It's the same story again in 2021," said Glen Goodman, a cryptoasset analyst and author of The Crypto Trader.
Is it different this time?
Opinion is split on whether this drop in correlation is permanent or temporary.
"Market participants are learning that many cryptocurrencies offer different value propositions. This is becoming more evident as we begin to see development in the space highlighting these differences," said Joel Kruger, a trader and strategist at LMAX.
However, for other analysts, 'value proposition' refers mostly to the potential for a quick buck.
"What we are seeing now is an overhyped and oversubscribed market. There is an overflow in liquidity. Community members and supporters are buying some of the altcoins thinking that it will give them 10-20x [return on investment]," said crypto advisor and investor Anndy Lian, adding that many investors likely believe that BTC has hit its maximum price level for the current period.
Of course, the truth often lies somewhere in the middle. For Quantum Economics analyst Lou Kerner, the overexuberance of the current bull market is a big factor in rising altcoins, but it certainly isn't the only one.
"The other factor at work is some projects are scaling rapidly (e.g. Uniswap, Polkadot, Binance) creating significant value, bringing down bitcoin's dominance," he told Cryptonews.com.
What this means is that, while certain fundamental shifts have taken place, we may also expect a return to greater bitcoin dominance in the event of a more bearish market.
"The rapid growth of DeFi in the past year gives ETH better fundamentals than before," said Robbie Liu.
"However, just like what happened after January 2018, after the bull market ends, bitcoin's dominance is likely to pick up and alts will begin underperforming the market leader."
Implications for traders and investors
Regardless of how permanent the shift is, analysts agree that it's good for traders and investors, given that declining correlations provide them with the opportunity to diversify.
"A decline in correlation should be a most welcome development as it opens up more opportunities to trade into different value propositions within the emerging space," said Joel Kruger.
Robbie Liu takes a very similar position, saying that the decline in correlations provides smaller traders with more of an opportunity for outsized gains.
"For retail investors with small amounts of capital and a higher tolerance for risk, the current decline in correlation is a welcome shift, presenting them with more opportunities to reap higher gains," he said.
Assuming that the divergence in correlations persists into the future, this would ultimately be a win for traders, investors and the wider industry alike.
As Glen Goodman concluded, declining correlations would be a sign that the market is maturing.
Anndy Lian is an early blockchain adopter and experienced serial entrepreneur who is known for his work in the government sector. He is a best selling book author- "NFT: From Zero to Hero" and "Blockchain Revolution 2030".
Currently, he is appointed as the Chief Digital Advisor at Mongolia Productivity Organization, championing national digitization. Prior to his current appointments, he was the Chairman of BigONE Exchange, a global top 30 ranked crypto spot exchange and was also the Advisory Board Member for Hyundai DAC, the blockchain arm of South Korea's largest car manufacturer Hyundai Motor Group. Lian played a pivotal role as the Blockchain Advisor for Asian Productivity Organisation (APO), an intergovernmental organization committed to improving productivity in the Asia-Pacific region.
An avid supporter of incubating start-ups, Anndy has also been a private investor for the past eight years. With a growth investment mindset, Anndy strategically demonstrates this in the companies he chooses to be involved with. He believes that what he is doing through blockchain technology currently will revolutionise and redefine traditional businesses. He also believes that the blockchain industry has to be "redecentralised".