Jasmycoin (JASMY) has been spiralling downwards for over a year, losing more than 99% of its value since its $1.8 peak at the end of May 2021. At the time of writing on 4 November 2022, the coin traded at $0.005728.
However, its trading volumes have been on a rise, up at $119m on 4 November 2022, surpassing its 31 July 2021 high of $97m.
With a number of projects on the way, can the cryptocurrency pick up its pace?
Let's take a deep dive into the jasmycoin universe, including the latest JASMY/USD forecast round-up.
What is Jasmy/USD?
Jasmy is a Tokyo-based IoT company that specialises in data management, and the safe purchasing and selling of data. It was established in April 2016 and dubbed "Japan's bitcoin".
The company is headed by former Sony (SNE) executives Kunitake Ando and Kazumasa Sato, and Hiroshi Harada, a former employee at KPMG AZSA LLP.
The Jasmy platform combines blockchain and Internet of things (IoT) technologies "to provide an infrastructure that allows anyone to use data safely and securely".
In an interview with Binance, Jasmy's CFO, Hiroshi Harada noted that the blockchain's main purpose is to "create a mechanism/platform which allows all users to take ownership of their own data in a secure and private manner.
"Instead of letting a handful of big tech corporations take control of such sensitive data, Jasmy aims to help enable a world where everyone can feel safe and secure about the use of their own data."
The platform allows for the safe storage of personal information through its Personal Data Locker (PDL) which provides users with full ownership over their data. In addition to that, Jasmy also has a Secure Knowledge Communicator (SKC), its core service responsible for the achievement of data democratisation.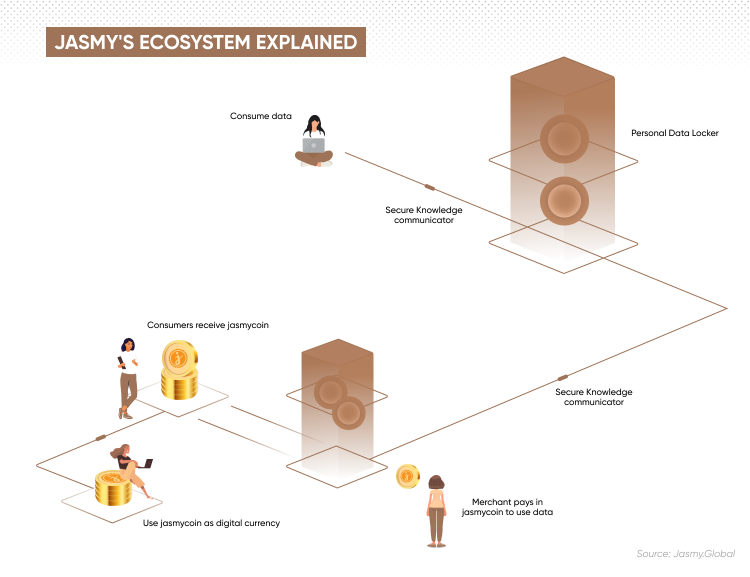 Merchants pay users who store their data on Jasmy for access using the platform's native cryptocurrency, JasmyCoin (JASMY), which can be used by users for investment purposes, governance and metaverse utility. JASMY is an ERC-20 token built on the Ethereum (ETH) ecosystem.
In the future, Jasmy also aims to provide IoT solutions to manufacturers interested in the smart home market and local governments in pursuit of a smart city.
The maximum number of JASMY coins is capped at 50 billion, with over 4.7 billion tokens in circulation, based on data provided by CoinMarketCap, as of 2 November. According to the platform, the token has a market capitalisation surpassing $24m.
A dip in the price trend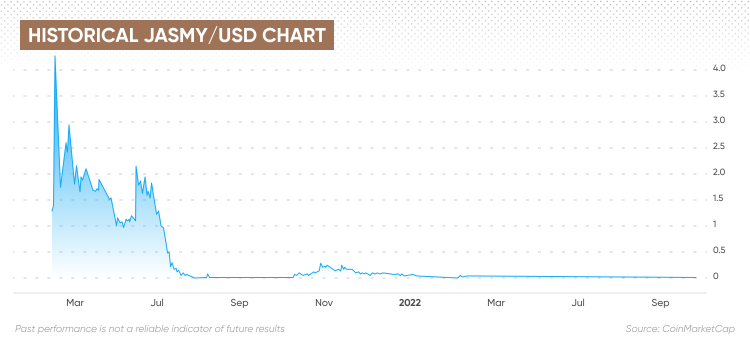 Jasmycoin started its journey well, surging by around 230% in just four days, up from $1.3024 on 12 February 2021 to its all-time high of $4.2929 on 16 February 2021 as the coin was listed on Gate.io.
In the next four days, however, JASMY dropped more than 58% to $1.7. It surged in the following weeks, jumping by 67% to $2.9628 by 2 March 2021, ahead of its listing on the Jubi exchange.
After falling by around 39% to $1.8 on 7 March 2021, JASMY managed to surge past the $2 barrier as the project joined GitHub, a platform where users could discuss it.
By 24 April 2021, JASMY had lost over 50% of its value, falling to $0.9866, a then all-time low. The token continued to move sideways before skyrocketing to $2.1586 on 6 May 2021 following a staking campaign organised by Gate.io, which ran for 14 days between late April 2021 and early May 2021.
Since the mini-hike at the start of May 2021, JASMY has been struggling to pick up pace, embarking on a bear dip and losing over 97% of its value, down to $0.05456 by 20 June 2021.
In the final quarter of 2021, JASMY saw a brief spike, in line with overall positive market sentiment and its listing on the crypto exchange Coinbase, as its price surged 409.7% to $0.2781 on 3 November 2021.
The positive trend diminished as the token entered the new year, with its value falling by 95% by the start of March 2022. Since then, JASMY has been trading in bear territory at $0.005728, as of 4 November 2022.
Why the dip?
A few analysts brought up a number of reasons as to why JASMY had crashed in June 2021.
Martin Škorjanc, the CEO of NiceHash, told Capital.com that the bearish trend was likely driven by unfriendly crypto news in Japan and the fact that Jasmy Inc. decided to release too many tokens at the same time with no solid mechanism for managing their circulation.
The token's unfamiliarity among investors was also a reason for its price to significantly drop, Dr Pooja Lekhi, Professor of Global Financial Institutions, Risk Management Approach and Financial Management at University Canada West said.
"Secondly, some rivals have advantages over Jasmy. IOTA crypto was an early mover in this space with many established partnerships. Therefore, it took more time for Jasmy to prove its worth."
News driving the Jasmy/USD rate
On 31 October 2022, JasmyCoin was listed on the Stealth crypto exchange making it eligible to trade with more than 600 other assets. This saw the token's trading volume reach an all-time high of $99.4m on the day.
On 5 September 2022, Jasmy announced that the token became the official sponsor of the Japanese professional football club, Sagan Tosu. In addition to becoming a sponsor, Jasmy also launched the Sagan Tosu Fan Token, a new cryptocurrency that uses non-fungible tokens (NFTs) and is based on the Jasmy blockchain, thus seeing the company enter an entirely new market.
In an interview with Binance recorded in early September 2022, the blockchain's CFO, Harada, noted that Jasmy was exploring the idea of launching its NFTs onto other broader marketplaces such as Binance NFT, OpenSea and Magic Eden in the future, thus further expanding their niche.
Harada also mentioned a number of projects that Jasmy is working on in the third quarter of 2022, which have the potential to influence the future of the JASMY/USD forecast including:
The development of the DD coin, the Japanese Yen-backed stablecoin that will be incorporated into the ecosystem
The development of the Platinum Data Happiness Discovery Project, that will award users who participate in the project JASMY tokens and help them identify which data is tied to their happiness through the use of artificial intelligence
JASMY/USD forecast 2023 and beyond
At the time of writing, the algorithm-based forecasting service Wallet Investor gave a mixed jasmycoin to the US dollar forecast. The site noted that JASMY was "a bad long-term investment", expecting the token to fall to $0.000350 in 2023 but surge to $0.009099 in 2027.
DigitalCoinPrice on the other hand gave a more positive JASMY/USD forecast. Based on its analysis of past price performance, the website predicted that the JASMY/USD forecast for 2022 could reach $0.00706 by the end of the year and surge to an average of $0.00949 in 2023.
Its JASMY/USD forecast for 2025 showed the cryptocurrency reaching $0.0149 on average and $0.0179 in 2027. The platform's long-term JASMY/USD forecast for 2030 expected the cryptocurrency to surge to $0.0316 on average.
The founder of SmartBlocks and host of Cryptonized, Mark Fidelman, told Capital.com that in the long run the token has potential to surge due to it being known as "the Japanese bitcoin".
"I wouldn't be a buyer at this point, but a token to watch," Fidelman added.
Anndy Lian, chief digital advisor at the Mongolian Productivity Organisation and author of NFT: From Zero to Hero, also brought up the fact that because JASMY is known as the local bitcoin, it is supported by many.
He noted that in order for JASMY to grow, the company must start to develop it "outside of Japan and grow their footprint in key market", noting:
"Additionally, I do hope to also see their enterprise services get more adoption instead of moving into offering fan token. They should focus on real utilisation according to their mission and this is the only way the project will grow in value."
When considering JASMY/USD predictions, it's important to keep in mind that cryptocurrency markets remain extremely volatile, making it difficult to accurately predict what a coin or token's price will be in a few hours, and even harder to give long-term estimates. As such, analysts and algorithm-based forecasters can and do get their predictions wrong.
We recommend that you always conduct your own due diligence on the asset before trading, looking at the latest news, a wide range of analyst commentary, and technical and fundamental analysis. Keep in mind that past performance is no guarantee of future returns. And never invest money that you cannot afford to lose.
Source: https://capital.com/jasmy-usd-forecast-dollar-jasmycoin-crypto-price-volume
Anndy Lian is an early blockchain adopter and experienced serial entrepreneur who is known for his work in the government sector. He is a best selling book author- "NFT: From Zero to Hero" and "Blockchain Revolution 2030".
Currently, he is appointed as the Chief Digital Advisor at Mongolia Productivity Organization, championing national digitization. Prior to his current appointments, he was the Chairman of BigONE Exchange, a global top 30 ranked crypto spot exchange and was also the Advisory Board Member for Hyundai DAC, the blockchain arm of South Korea's largest car manufacturer Hyundai Motor Group. Lian played a pivotal role as the Blockchain Advisor for Asian Productivity Organisation (APO), an intergovernmental organization committed to improving productivity in the Asia-Pacific region.
An avid supporter of incubating start-ups, Anndy has also been a private investor for the past eight years. With a growth investment mindset, Anndy strategically demonstrates this in the companies he chooses to be involved with. He believes that what he is doing through blockchain technology currently will revolutionise and redefine traditional businesses. He also believes that the blockchain industry has to be "redecentralised".