Bitcoin (BTC), the first cryptocurrency and the most valuable coin, is losing steam in 2022 amid a wider shift in market sentiment. Meanwhile, Cardano's (ADA) long-awaited Vasil hard fork failed to trigger bullishness.
What does it mean for the ADA/BTC forecast? Here we take a look at the Cardano (ADA) to Bitcoin (BTC) cryptocurrency pair and factors shaping the ADA/BTC exchange rate.
ADA/BTC represents the exchange rate between ADA, the native cryptocurrency of the Cardano blockchain, and BTC, the native coin on the Bitcoin Network.
Maxim Shilo, digital assets analyst at CoinLoan, explained that to determine the ADA/BTC rate, the coins' prices are calculated separately, then added together, noting:
"If BTC rises 4.5%, and ADA rises 2.5% at the same time, then ADA/BTC price is down 2% respectively…There might be some differences, which are for market makers to spread on."
Bitcoin was created in 2009 as a digital alternative to cash. Since its launch, the cryptocurrency has started to act as a store of value. It's been compared to gold as a hedge against inflation.
Bitcoin's key feature is mining. This is done through a blockchain that connects all public BTC transactions together. The blockchain uses a Proof-of-Work (PoW) consensus mechanism through which miners compete to solve mathematical equations and confirm the legitimacy of transactions. Miners are rewarded in BTC.
BTC tokens also undergo halving events roughly every four years. This is when the number of the BTC coins in circulation is reduced by half, making the token scarcer and raising its price.
Cardano was launched in 2017 as a third-generation crypto platform that uses the Proof-of-Stake (PoS) consensus mechanism. The blockchain prides itself in being the first ever crypto platform "to be founded on peer-reviewed research and developed through evidence-based methods".
Cardano's key focus is on being sustainable. In September 2021 the platform introduced smart contract capability, which means that the blockchain can now also support the creation of decentralised apps (dApps), new tokens, decentralised finance (DeFi) games, non-fungible tokens (NFTs) and more – one of the key factors that makes it stand out compared to BTC.
The platform was developed in "eras", each named after a prominent historical figure in the fields of literature and computer science, such as Byron, Shelley, Goguen, Basho and Voltaire.
As of 30 September, the blockchain's era is Basho, which introduced more scaling and optimisation to Cardano. Voltaire will be the last era in the blockchain's development, which will bring governance to the system.
ADA/BTC historical rate chart
The ADA/BTC exchange rate surged 1,373.4% in the four months after the launch of the ADA token, trading at 0.00007103BTC in January 2018. At the same time the ADA price in USD jumped more than 4,800% to $1.0797. This was when ADA reached its all-time high against BTC.
Between 2018 and 2020 the exchange rate moved sideways, peaking at 0.00001811BTC and 0.00001495BTC in April 2019 and July 2020, respectively. In 2021, ADA regained its momentum against bitcoin.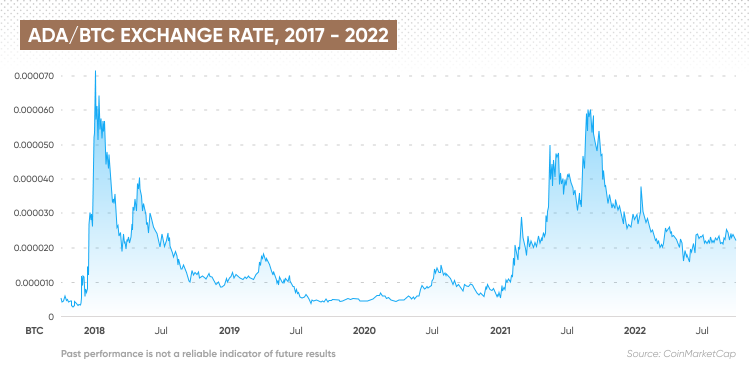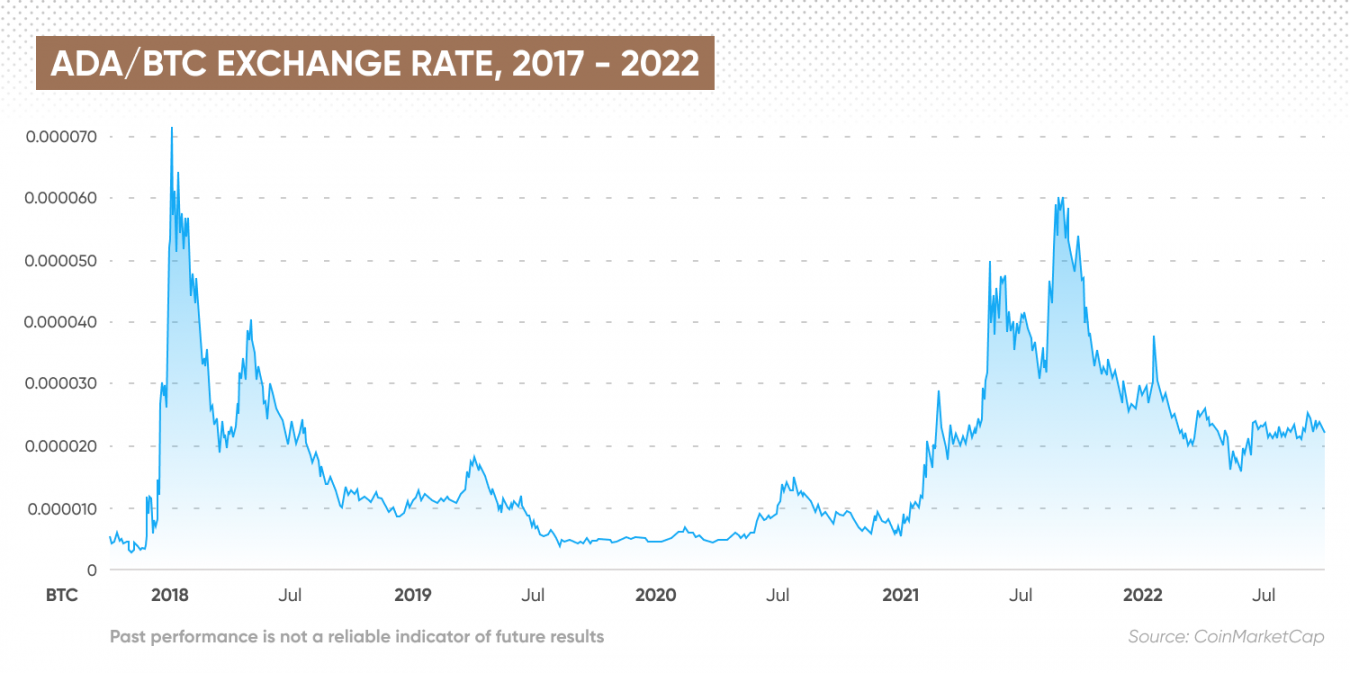 Between January and September 2021, the ADA/USD rate surged over 800%, with ADA enjoying the peak of 0.00006008BTC. The jump was mostly driven by bullish sentiment for Cardano, with ADA trading at a record high of $2.9682 in September 2021.
But, wider sentiment in the cryptocurrency markets shifted. ADA/USD swinged lower, losing over 20% year-to-date. Separately, ADA and BTC have lost 68% and 58% of their value in 2022, respectively (as of 30 September).
Is the Vasil fork driving ADA/BTC?
Cardano's long-awaited Vasil mainnet upgrade, which aims to improve the blockchain's scalability and increase the network's capacity, was launched on 22 September after several delays. The Cardano Foundation said on Twitter.
Full Vasil capability became available on 27 September. In addition to that, the Cardano blockchain activated the Plutus V2 cost model, which delivered lower transaction costs for smart contracts.
This update was expected to boost ADA's value, but failed to do so. According to Anndy Lian, chief digital advisor at the Mongolian Productivity Organisation and author of NFT: From Zero to Hero, "this is mainly due to the financial uncertainty globally."
"Marco risks led by a very hawkish US Fed have also weighed down ADA's price movement after Vasil's launch," he told Capital.com.
The ADA/BTC exchange rate dropped by 5.5 % between 22 and 29 September, during the hype in the run-up to the fork's launch.
Shilo agreed that this phenomenon was linked to wider macro-economic factors stemming from a troubled global economy and a wider bear market. "Macro doesn't really care about the updates or future promises," he said.
Shilo added that Cardano was not the only token affected by macroeconomics on the brink of a big upgrade, using Ethereum's Merge as an example.
Lian noted that although ADA failed to jump after the Vasil fork, their voting power has increased by 53%, noting:
"This means that more ADA was being used across proposals in Project Catalyst with 11% of all the circulating ADA being used in Catalyst Fund9, which is a community-driven initiative that allows users to vote and determines the future direction of the ecosystem."
According to Lian "more utility and support from the community means better potential for the development of the token".
In other news, the Cardano Foundation is preparing for an events season, which will kick off in October 2022. The Foundation is due to participate in a number of key crypto events that could affect an ADA/BTC forecast.
In November, Cardano will hold the Cardano Summit 2022 in Switzerland, which will focus on presentations and updates from developers of Cardano's decentralised applications (dApps).
ADA/BTC forecast for 2022 and beyond
Based on the analysis of ADA's past price performance, as of 30 September, the algorithm-based forecasting service WalletInvestor predicted that ADA/USD could fall to $0.0423 in 2023. The platform did not provide a price prediction for 2027.
In terms of its bitcoin prediction, the site saw BTC/USD trade at $30,274.06 in 2023 and reach $74,480.14 by 2027.
While WalletInvestor did not provide a direct Cardano/Bitcoin forecast, data suggested that the exchange rate could be 0.000000567BTC in 2023.
DigitalCoinPrice predicted that ADA/USD could rise to $0.46 by the end of 2022, $0.99 in 2023 and $1.76 in 2025. Its long-term prediction saw the coin reaching $6.04 in 2030.
The site also gave an upbeat BTC/USD forecast, expecting the coin to average at $20,403 in 2022, $44,579 in 2023, $79,430 in 2025 and surpass $273,000 in 2030.
DigitalCoinPrice's ADA/BTC forecast for 2022 expected the pair to reach 0.00002255BTC. In 2023, the ADA/BTC prediction saw the exchange rate falling to 0.00002221BTC. The site's ADA/BTC forecast for 2025 stood at 0.00002216BTC. Its long-term ADA/BTC forecast for 2030 was 0.00002212BTC.
Shilo stressed that bitcoin has relative strength to altcoins and added that in his opinion the ADA/BTC forecast is pointing downwards:
"It's unlikely that [ADA] will outperform BTC. I can't see it happening in the near term. Only very few selected coins have done so in the long term, and historically the chances are very slim. Given that the price is trading in the range and is in no man's land against BTC, it's clearly pointing toward a downward trend."
Note that analysts' and algorithm-based forecasts can be wrong and shouldn't be used as a substitute for your own research. Always conduct your own due diligence before trading, and never trade money you cannot afford to lose.
Source: https://capital.com/ada-btc-prediction-cardano-bitcoin-vasil-hardfork
Anndy Lian is an early blockchain adopter and experienced serial entrepreneur who is known for his work in the government sector. He is a best selling book author- "NFT: From Zero to Hero" and "Blockchain Revolution 2030".
Currently, he is appointed as the Chief Digital Advisor at Mongolia Productivity Organization, championing national digitization. Prior to his current appointments, he was the Chairman of BigONE Exchange, a global top 30 ranked crypto spot exchange and was also the Advisory Board Member for Hyundai DAC, the blockchain arm of South Korea's largest car manufacturer Hyundai Motor Group. Lian played a pivotal role as the Blockchain Advisor for Asian Productivity Organisation (APO), an intergovernmental organization committed to improving productivity in the Asia-Pacific region.
An avid supporter of incubating start-ups, Anndy has also been a private investor for the past eight years. With a growth investment mindset, Anndy strategically demonstrates this in the companies he chooses to be involved with. He believes that what he is doing through blockchain technology currently will revolutionise and redefine traditional businesses. He also believes that the blockchain industry has to be "redecentralised".