It looks like major US-based blockchain company Ripple is putting their hopes in the new US Securities and Exchange Commission (SEC) following a lawsuit filed against the company by the regulator. Meanwhile, more platforms are suspending trading in XRP.(Updated at 16:08 UTC: updates in bold.)
Ripple is now looking towards the incoming new SEC leadership, which may (or may not) be more friendly towards it and XRP. "[W]e also look forward to working with all of the Commissioners and the SEC's new leadership, once appointed," they said in their December 29 announcement.
They added that "in all, the SEC Chair, six of his Directors from each SEC Division, the SEC's Chief Economist and the SEC's General Counsel have now departed (many left just last week)," and added that their "steadfast commitment to constructive regulatory engagement has not changed." (Learn more: Cryptoverse Might Face 'More Aggressive' SEC Under Biden)
As reported, Ripple is questioning the motivation for bringing this action against them just days before the change in administration because "the SEC has permitted XRP to function as a currency for over eight years."
Meanwhile, among the latest announcements regarding the staff change on the SEC's website is the one that Sean Memon will conclude his tenure as the agency's Chief of Staff in January 2021. Memon served as principal advisor to Chairman Jay Clayton on legal, policy and management matters, it said. It was announced in November that Clayton himself would leave by the end of this year, and just yesterday it was confirmed that Donald Trump designated Elad L. Roisman as Acting Chairman of the agency, who is generally said to be crypto-friendly.
Calling the lawsuit an attack on the entire crypto industry in the US that brought more uncertainty to the market and harm to the community the SEC is supposed to be protecting, Ripple said the lawsuit "affected countless innocent XRP retail holders with no connection to Ripple."
Following the news, XRP erased almost all its gains over the past 12 months.
The company added that Ripple will continue operating in the US and globally, that the majority of their customers aren't in the US, and that overall XRP volume is largely traded outside of that country.
An initial pretrial conference in the lawsuit has been set for February 22, according to a court order.
Meanwhile, exchanges continue their 'evictions' of XRP, so to say. Following several minor exchanges, as well as major ones like Coinbase and Bitstamp, Bittrex said it would be removing four available XRP markets (around USD 20m in combined trading volume in the past 24 hours, per Coinpaprika.com data) on January 15.
"Until further notice, customers will continue to have access to their XRP wallet on Bittrex after the markets are removed," they added.
Also, Swipe Wallet will delist XRP for the USA users on January 5. Crypto buying app Ziglu will suspend XRP trading on January 12 and digital payment services provider Wirex decided against including XRP in a US version of the app slated for launch in January, The Block reported.
Meanwhile, in their latest report, Arcane Research predicted that XRP will drop out of the top 10 coins by market capitalization in 2021. "XRP has experienced terrible volatility lately with the SEC charges against Ripple, leaving late investors with big losses. XRP is about the erase all gains of 2020," it said.
XRP has already dropped from the third position as the largest cryptoasset by market capitalization to the fourth following the crackdown.
At pixel time (10:23 UTC), XRP trades at USD 0.21 and is down by 4.6% in a day and 38% in a week. The price crashed by 66% in a month, erasing its gains over the past 12 months to less than 9%.
XRP price chart: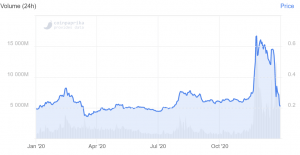 .@krugermacro I posted this 23 hours ago. https://t.co/dE3YB2dWbJ

— Anndy Lian #Blockchain #Crypto #Singapore (@anndylian) December 30, 2020
Original Source: https://cryptonews.com/news/ripple-bets-on-the-new-sec-while-the-xrp-purge-continues-8764.htm
Anndy Lian is an early blockchain adopter and experienced serial entrepreneur who is known for his work in the government sector. He is a best selling book author- "NFT: From Zero to Hero" and "Blockchain Revolution 2030".
Currently, he is appointed as the Chief Digital Advisor at Mongolia Productivity Organization, championing national digitization. Prior to his current appointments, he was the Chairman of BigONE Exchange, a global top 30 ranked crypto spot exchange and was also the Advisory Board Member for Hyundai DAC, the blockchain arm of South Korea's largest car manufacturer Hyundai Motor Group. Lian played a pivotal role as the Blockchain Advisor for Asian Productivity Organisation (APO), an intergovernmental organization committed to improving productivity in the Asia-Pacific region.
An avid supporter of incubating start-ups, Anndy has also been a private investor for the past eight years. With a growth investment mindset, Anndy strategically demonstrates this in the companies he chooses to be involved with. He believes that what he is doing through blockchain technology currently will revolutionise and redefine traditional businesses. He also believes that the blockchain industry has to be "redecentralised".