The green satoshi token (GST), the utility token of the STEPN project, started 2022 with a high, but soon burnt out amid a wider negative shift in investor sentiment. Being the pioneer of move-to-earn (M2E) projects, STEPN, a Web3 app powered by the GST token, inspired crypto enthusiasts to exercise while earning money.
However, as the wider crypto market collapsed, following the fall of the TerraUSD stablecoin and its sister cryptocurrency LUNA, so did GST. Its price action relies on the performance of the Solana (SOL) blockchain, where  it was built.
What do experts have to say, and what other factors will shape the green satoshi token price prediction?
What is the green satoshi token?
The green satoshi token (GST) is the native cryptocurrency of the Web3 lifestyles app STEPN, according to the project's whitepaper.
STEPN combines SocialFi and GameFi elements and is built "around an essential daily activity for most people – moving around".
When STEPN launched in December 2021, it was the first M2E mobile non-fungible token (NFT) game powered by the Solana network. The game was created by a fintech studio based in Australia named Find Satoshi lab.
In the game, users equip themselves with NFT Sneakers and can either jog, walk or run outdoors to earn GST tokens. Players can also choose whether they want to lease or sell their NFT Sneakers on the in-app Marketplace.
"With Game-Fi, STEPN aims to nudge millions toward a healthier lifestyle, combat climate change and connect the public to Web 3.0, all while simultaneously hinging on it's Social-Fi aspect to build a long-lasting platform fostering user generated Web 3.0 content," the platform's whitepaper said in a statement.
STEPN is currently under a Public Beta Phase. The application makes profit from small taxes on in-app activities, like NFT trading, Shoe-minting and Shoe-rental.In addition, part of STEPN's profit goes to buy Carbon Removal Credit on the blockchain to combat climate change.
STEPN has a dual token system:
GMT is the platform's governance token
GST is the platform's utility token.
The two tokens are utilised for different purposes within the platform. GST tokens can be used to level up or mint new NFT Sneakers or even cash out for profit, meanwhile GMT tokens can be used for customisation fees.
STEPN has a burn mechanism which means tokens are available in a limited supply. Both GMT and GST tokens are burned through a number of in-app activities.
In order to become part of the STEPN community, a person must first download the STEPN mobile app, register an account and open a wallet. Users deposit SOL tokens to the built-in STEPN wallet with which they can buy NFT Sneakers.
Activity rewards motivate users to use the app everyday for sports, thus pushing them to continue to exercise.
The total supply of GST tokens amounts to a little over 286m – over 276m tokens are currently in circulation, according to data provided by CoinMarketCap, as of 20 July. GST has a market capitalisation surpassing $18m and is ranked as the 621st largest cryptocurrency.
In 2021, STEPN finished fourth out of over 500 projects at the Solana Ignition Hackathon.
GST price analysis
The GST token was arguably one of the most successful tokens of 2022 as it embarked on a bullish trend shortly after launch. Debuting at $1.8451 on 22 December 2021, the token gained nearly 70% in two weeks as it reached $3.1216 on 6 January 2022.
Even though it managed to lose some momentum between 16 and 20 January, GST started a steady climb to $2.9423 by 20 February, up from $1.6839 lows a month earlier.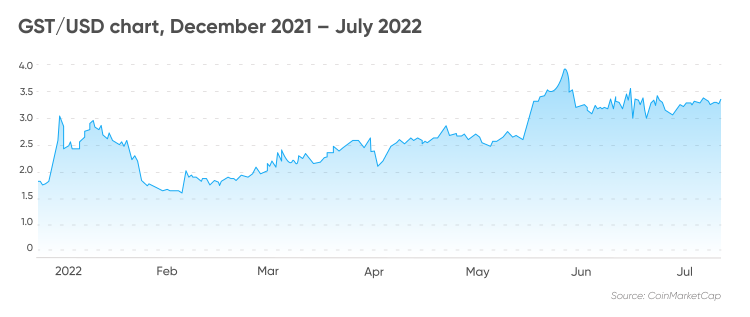 Between 1 and 6 March, the GST token jumped by nearly 50%, reaching its then all-time high of $3.9838. A second jump followed in April, when the token first reached $4.7337 on 1 April, surging to $5.4805 six days later.
After some downward action and fluctuation between $4 and $5, the token skyrocketed to $7.8233 – a 42.7% surge since its 7 April value and a 324% jump since its launch in December 2021.
Following the massive surge, the token dipped on the following day and lost over 45% of its value as it fell back to the $4 levels. The token is trading at its record lows, as of 20 July.
As of 20 July, the coin was valued at $0.06673, a 96.4% decline since its launch in December and a 99.1% fall since its all-time high in April.
This comes amid a wider shift in market sentiment to risk-off due to the tightening cycle of monetary policy, soaring inflation, the war in Ukraine, and fears of recession, with cryptocurrency veterans bitcoin (BTC) and ether (ETH) down 48% and 56% respectively year-to-date.
Key GST news that are driving the token
The GST token seemed to have been performing fairly well at the start of May. However, the positive rally was short-lived as the token soon embarked on a bearish trend following the collapse of the TerraUSD (UST) stablecoin and its sister token LUNA that brought down a sea of other cryptocurrencies.
In addition, the token was affected by a Solana outage on 30 April. The outage happened in Solana's Mainnet Beta cluster which ceased producing blocks as result of stalled consensus. Even though the system was quickly restored and the GST token ended up dipping by 48.7% in a day.
The biggest STEPN news, however, came on 22 April, Earth Day 2022, several days before the GST token reached its all-time high, as the coin announced its goal of carbon neutrality. As the company noted:
"STEPN, a Web3 lifestyle app, is kickstarting their mission toward combating climate change and achieving carbon neutrality with a purchase of $100,000 worth of Carbon Removal Tonnes, or 5,797.1 tonnes. STEPN will continue to power the movement to reverse climate change with a monthly commitment to pay for carbon removal."
On 27 April Coinbase announced that it would be adding support for GMT and GST tokens. A day later, OpenSea said that STEPN NFTs were "now available" on the platform.
Following the news, the GST token surged by around 65% in April to its all-time high of $7.8233.
In addition, at the start of April, STEPN released its first quarterly GMT results, which saw a profit of 198,635.62 SOL ($26,815,807.35 at the time) from the platform's NFT marketplace trading and royalty fees.
One week later, the platform announced that over the previous few months, the app was used by 200,000 daily active users. In the aftermath of positive news, the GST cryptocurrency grew by around 15%, from $4.7337 on 1 April to $5.4422 on 8 April.
On 28 February the company announced that it was looking into launching two updates: a merge spending account with Wallet and an NFT marketplace upgrade. On 1 March the platform announced a giveaway and the token was made available to buy on the Binance Launchpad.
GST price prediction: What should traders look out for?
In the third quarter of 2022, STEPN is planning to launch the spin-off of their NFT marketplace. In the fourth quarter it plans to implement a system where players can rent each other's sneakers for running.
According to Mark Fidelman, the founder of SmartBlocks and host of the Cryptonized podcast, the GST token "is a speculation".
"That's what's driving its price action. It's a pretty cool concept, but I don't think the token price is going to go anywhere in the future," he told Capital.com.
Fidelman added that whilst STEPN's main goal is to pay people to be healthy and move around, the token has no other value that could be driving it forward.
"I mean, yes, [people] have to buy NFT's before they can start moving around on the app and there's some money there, but the amount of money [people] are spending, or the token is spending, on people moving can't be paid back because there's no underlying value there."
Anndy Lian, the chief digital advisor at Mongolian Productivity Organisation and the author of Blockchain Revolution 2030, added that in order for GST to pick up its pace again, STEPN must try to "find a place within the GameFi space".
"GST has to scale up or find more users sustainably. Earning $1 daily by walking seems to be more sustainable compared to $30. The company should rethink its marketing strategy for it to scale up," Lian added.
"When that is addressed, they can find real investors who are interested in their product and not just trying to make money off it. This will also help them to position themselves to attract more prominent institutions or sports brands to buy into their company too."
Both Lian and Fidelman agreed that STEPN proposes a unique concept, however, the company must work on their marketing strategy and value in order to return to past highs.
"STEPN is the pioneer in the move-to-earn space. This will continue to give them a good head start. I wrote a lot about them in my new book titled NFT: From Zero to Hero. My friendly piece of advice for the team is to get them to sprint and not walk," Lian concluded.
Fidelman added: "Maybe if they figure out an exercise model that works, maybe that would work. But this has been tried with startups and failed miserably."
Green satoshi token price prediction
In line with recent action, algorithm-based forecasting service Wallet Investor gave a bearish green satoshi token price prediction.
As of 20 July, the site called GST is "a bad investment". According to the website's future GST coin price prediction, the token could fall to $0.0223 in 2023.
DigitalCoinPrice on the other hand, had a more bullish view on the GST crypto price prediction.
According to its green satoshi token price prediction for 2022, the cryptocurrency could average at $0.0998 by the end of the year.
The site's  green satoshi token price prediction for 2025 suggested that the coin could average $0.13 and $0.22 by 2028. Meanwhile, DigitalCoinPrice's long-term green satoshi token price prediction for 2030 indicated that the cryptocurrency could average at $0.31 during the year.
Note that price predictions can be wrong. Forecasts shouldn't be used as a substitute for your own research. Always conduct your own due diligence, and never invest or trade money you cannot afford to lose.
Original Source: https://capital.com/green-satoshi-gst-price-prediction
Anndy Lian is an early blockchain adopter and experienced serial entrepreneur who is known for his work in the government sector. He is a best selling book author "Blockchain Revolution 2030".
Currently, he is appointed as the Chief Digital Advisor at Mongolia Productivity Organization, championing national digitization. Prior to his current appointments, he was the Chairman of BigONE Exchange, a global top 30 ranked crypto spot exchange and was also the Advisory Board Member for Hyundai DAC, the blockchain arm of South Korea's largest car manufacturer Hyundai Motor Group. Lian played a pivotal role as the Blockchain Advisor for Asian Productivity Organisation (APO), an intergovernmental organization committed to improving productivity in the Asia-Pacific region.
An avid supporter of incubating start-ups, Anndy has also been a private investor for the past eight years. With a growth investment mindset, Anndy strategically demonstrates this in the companies he chooses to be involved with. He believes that what he is doing through blockchain technology currently will revolutionise and redefine traditional businesses. He also believes that the blockchain industry has to be "redecentralised".